Welcome to Same Same But Different. As Gen Z and millennial fashion editors, respectively, we know a thing or two about shopping—for all ages, and especially our demographics. As we find the best products for you, we can't help but do a little shopping for ourselves and build our personal (age-appropriate) wish lists. And now, we're sharing them with you. Ahead, check out what's in our hearts and in our carts lately.
---
Dale Chong: While I won't get into my thoughts about "-core," balletcore specifically is one trend I can get behind. Maybe it's the fact that I am very familiar with the aesthetic, having grown up taking ballet classes—or that it simply has a timeless and universal quality. Either way, my eagerness to see how everyone, including myself, is sporting the trend this season definitely has me on my toes.
Meg Donohue: "On my toes," I see what you did there. I too am intrigued by this trend, because I don't totally know how I feel about it. I'm into skirts and bodysuits and bows. But is that really all there is to it? Perhaps it's because I decidedly do not have a dance background, but I find balletcore…intimidating, I suppose. Care to make your case?
DC: Well, it turns out we've already been incorporating elements of it into our wardrobes, if you think about it. Bodysuits (a.k.a. leotards) have become a proven essential, while the best tights and ballet flats, when you isolate them outside of the trend, are two things that add a bit of a feminine touch to our outfits. Obviously, the whole concept of balletcore is about the look, but at the same time, it doesn't have to be everything all at once. You can find the parts that you like and add them to your looks accordingly. Consider these cut-out socks from Urban Outfitters—they are clearly inspired by leg warmers, but there's something decidedly punk about them, too (I especially like them in the black). What are your thoughts?
MD: I'm all in on those cut-out socks. They have such a cool factor. I think my problem is that I find balletcore to be more niche than a blanket term like, say, bohemian or preppy. Do you think it can lend itself to more than just sheer tights and Mary Janes? I love tights, leotards, skirts—all of these components individually, but I don't know if I've ever fully committed to trying these pieces together. It's an interesting exercise to think of ways to apply that ballet-slash-warm-up aesthetic to someone who might otherwise not have a very delicate or feminine style at all. And maybe balletcore truly is just that very specific vibe. That's not necessarily a bad thing!
DC: A lot of times, when the fashion world discusses this trend (and no, it's nothing new), most people, myself included, default to ultra-delicate pieces in pastel. I personally feel that balletcore also touches on comfort, things that keep us moving freely. I suppose that's what makes my selects—like the ballet pink wraps and skirts—more literal. So perhaps you're right, it's a little more specific than other style personalities. That said, here's a sartorial challenge for you: If you were given the prompt to put together an outfit inspired by balletcore, what would you wear? Would you wear them all together, or independently to suit your style?
MD: Oh, I love this game. I think those cut-out socks, for instance, would look so chic with black platform loafers. I'm most inclined to infuse my own flair in little ways like that. I'm eyeing this cute blue hair bow and pair of square-toe ballet flats that I can picture wearing with just about any outfit. But if there's one item that's tempting me to truly lean in, it's these sweet one-piece exercise rompers. The light pink one-piece from Free People? I've never wanted to twirl so badly.
DC: Twirl away, girl. That's what I enjoy the most about everyone's approach to style these days—there's less categorizing everyone into specific boxes. I love this take, particularly the duffel bag. It's giving me dancer-off-duty vibes. And honestly, maybe a little Madonna in her tutu era? I'm all for it. Meanwhile, I've been channeling one of my favorite parts of attending a ballet class: warm-ups. Basically, I'll be in my heavier layers, like an easy sweater, until my body has quite literally warmed up. I also love keeping my hair pulled back with a sleek hair pin; it's a far cry from my bent-out-of-shape bobby pins. But looking at your other selects, I must ask—how did you decide on the unitard and the ankle socks?
MD: Me, a punk ballerina. Who knew?! I always love a one-piece for athletic purposes. I think it stems from my yoga practice. Inversions are so much easier without my shirt falling in my face. When I saw that ivory unitard, I just loved the look of it. And honestly, I just liked the idea of socks. When it isn't summer, my feet are perpetually freezing, and my socks are basically a second skin. I think it's fun to play around with printed or embellished pairs (kind of like the UO ones) to add a little personality. (Happy Socks has no shortage of funky socks, as the name suggests). But I agree with you wholeheartedly: The inundation of "microtrends" can be so exhausting, but I'm choosing to focus on how fun it is to see everyone interpret each one in their own personalized way.
DC: Exactly—and that's what personal style is all about, right? The world is our runway and the runway is our stage! Be the punk prima ballerina or the classic, romantic one. I, for one, am certainly excited to see how you and everyone else will sport a balletcore moment. And on that note, I think it's time we jeté. Until next time!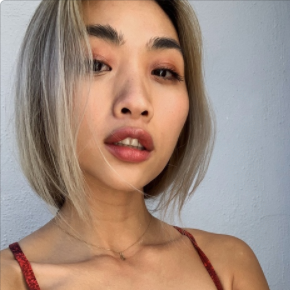 Dale Arden Chong is the Senior Fashion Commerce Editor at ELLE.com. Previously, she was an editor at MensHealth.com and has written for Who What Wear, GLAMOUR, The Coveteur, and more. She loves fashion, food, and art, among other things—but her greatest love is K-pop idol V of BTS. 
Associate Fashion Commerce Editor
Meg Donohue is the Associate Fashion Commerce Editor at ELLE.com. Her passions include spicy foods, sustainability, and the Y2K remake of Charlie's Angels. She will never stop hoping for a One Direction reunion tour.