Hallelujah! Salons we be reopening their doors this week and our hair is thirsty for a new season freshen up as we venture out of lockdown hibernation.
Whilst December won't look like normal this year (we miss you, office Christmas parties), there will be a certain amount of face time with friends and family – so now is the perfect time to embrace a new hair colour.
Plus, we don't mean to be pessimistic but a New Year lockdown is looking pretty inevitable so we're keen to get our hair spruced up in preparation. If you're keen to get ahead and are in need of some winter hair colour inspo for the season ahead, we've done the hard work for you. We've grilled some of the best hairdressers in the business to break down the hottest winter hair colour trends of 2020 that will take you seamlessly into 2021.
Halo lights

Halo lights involve creating a halo of highlights to frame the face and make our features pop. Yes. Please. "Halo lightening is a technique that lightens around the face but is also used around the hairline, the sides of the head and at the nape of the neck, providing brightness around the face even when the hair is tied up," explains pro hair stylist and Editorial Ambassador for L'Oreal Professionnel, Adam Reed.
It can be tweaked to your specifications. For instance, you can dial up the brightness by wrapping the front and underneath sections in a luminous blonde, or you can opt for a more subtle, soft focus warmth with coppers and caramels woven through your strands, depending on what will best suit your existing hair colour and your desired results.
Champagne gloss

"Trends are formed by things that inspire us and are brought to life, so how could we not check out what's on the TV and take inspo from it during these current times?" says Harriet Muldoon from Larry King.
Harriet points to Emma Corrin's look in The Crown as the ultimate inspo for winter 2020 – because her hair is so natural and that's the style we've all been forced to embrace thanks to lockdown. "Diana's iconic look – from the cut to the colour – has been brought back to life via Emma Corrin in Netflix's hit show and we should all be taking note," says Harriet. "This year, we've been embracing our natural selves (whether we wanted to or not!) and many of us have been forced into embracing our roots or natural hair colours – just like Princess Diana did. These natural looks will continue as a trend through the season and into next year – especially if we face more lockdowns." Harriet suggests enhancing your natural colour with soft babylights (very subtle highlights) and a champagne gloss (an all-over treatment to bring some serious vibrancy to your hair).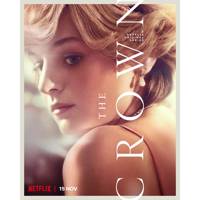 Copper hues

Another Netflix show that's influencing winter hair trends is The Queen's Gambit, which is now the most-streamed series of all time on the platform. Beth's hair, which evolves from a rigid page-boy cut as a nine-year-old orphan to full-on sixties flipped-out ends, inspired we're told, by film siren, Natalie Wood, is a gorgeously wintry shade of copper. "This look is all about structure and strength just as she plays chess," says Harriet. "The colour is strong but has a natural touch, the copper almost could be seen as her own. To create this look, a base needs to be added to dilute the copper's brightness so that the overall finished look has a softer finish. The styling is a strong set look so get your rollers and hair spray at the ready!"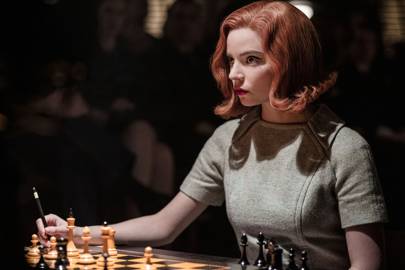 Likewise, Nicole Kidman embraces her gorgeous copper hair in The Undoing, which has been making waves on TV. Bryony Cairns from Larry King believes red and copper hues are going to be major next year so jump on the trend ASAP.
Two-tone bold streaks

Unless you've been living under a rock, you'll be well acquainted with hit HBO series Euphoria. In the explosive teen drama, Zendaya, who plays protagonist Rue, alongside her costars Hunter Schafer, Alexa Demie and Sydney Sweeney express their mesmerising characters through their experimental makeup, which involves jewels, studs and plenty of glitter.
As well as some major makeup trends, Euphoria blessed us with some Noughties-inspired hair trends, too. As Bryony explains: "Euphoria took us back to the early Noughties look with our two-tone bold streaks." The grungy '90s trend that saw celebs and beauty influencers bleaching bold streaks of hair at the front of the hairline to frame the face. And absolutely no blending or feathering, thank you very much. "To create this look, go bolder and brighter with your two tone. A bold border is my favourite for a finished look," she adds.
Classic blue

"Classic Blue is the Pantone Colour of the Year for 2020 and as we quickly head into 2021 one of the biggest colour trends is said to be shade Al Aqua, another gorgeous blue hue that takes inspiration from the Caribbean seas," says Suzie McGill, owner of Rainbow Room International.
"As we move into 2021, aqua-inspired blues and turquoise shades become more popular. These shades promote positivity and have a very futuristic and innovative feel to them. These shades are a great choice for clients who like to stand out from the crowd and who like to try those mermaid inspired hues, however, they're also great as they are very diverse and versatile and can be adapted to the client by being as bold or as subtle as they like."