If you thought that the end of summer signalled the end of floaty, feminine dresses, think again. Whether you love them or loathe them, these fun, often floral, pieces hit peak popularity earlier this year, and thankfully – as is often the case with such trends – the fashion set have figured out a way to transition the style into autumn/winter.
Which is ideal, when one of the style set's favourite brands comes from down under, where the seasons entirely conflict with our own.
Australian fashion label, Aje, was founded in 2007 by two friends Edwina Robinson and Adrian Norris, who excel in finding the sartorial sweet spot between strong and feminine, timeless and on-trend.
They made their debut at Australia's Mercedez-Benz Fashion Week in 2012, but, despite calling the likes of Madonna and Kate Moss as fans of the brand, it's remained a relatively under-the-radar for those not in the industry. Until now, that is.
Having gained serious momentum via the street style set over fashion week in September, Aje is having a real moment in the celebrity/influencer world. And in the current climate, that's gold dust for a brand. As effective as traditional advertising, the constant appearance of the Mimosa Cutout dress, in particular, on our Instagram feed has pushed it right to the top of our must-have list.
And yes… that is the best puff-sleeve you've ever seen in your life.
With the weather in the UK now less than welcoming to a summer dress, we're envisioning all incarnations of this number paired with tough black boots and perhaps even a thin ribbed roll neck beneath.
But it's not just the Mimosa midi that's been enticing the style set, with Gigi Hadid opting for the brand's tough, white shirt jacket, and Instagram royalty Danielle Bernstein of WeWoreWhat posting images of herself expertly modelling the Whitehaven blouse.
Queen of a clean, white look, Olivia Culpo, also got in on the Aje action, via the Paperbark linen jean.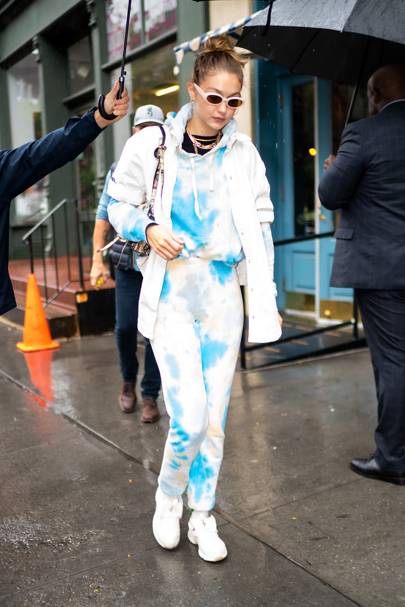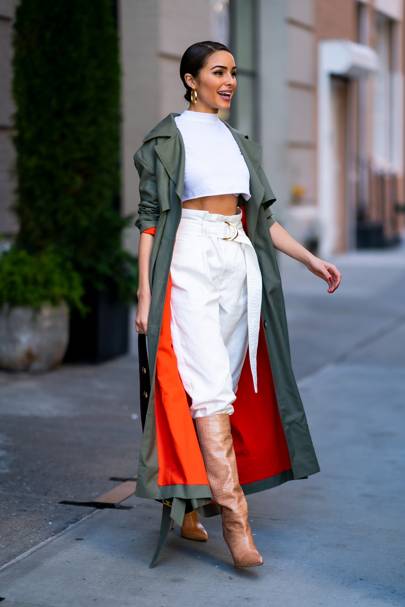 Need we ask if you're into it?