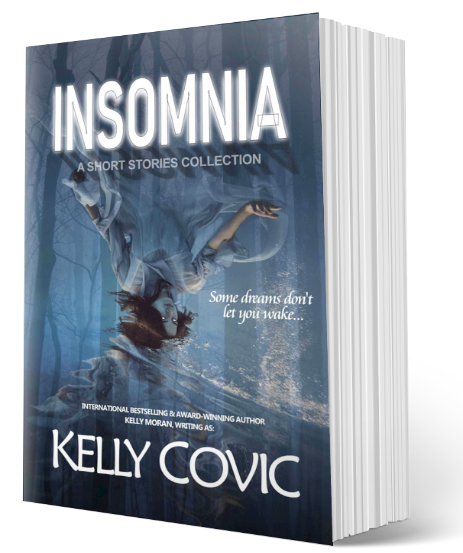 Insomnia
By Kelly Covic
Smashwords Publishing
58 Pages
A collection of ethereal and macabre short stories to ponder- what could have been the thing that went bump in the night?
SILENT SIGHS: A young couple visits a haunted house when an unanticipated melee unleashes.
THE ATTIC: A young teenager realizes moving into a new house with a fresh start does not have to epitomize hormone fueled angst.
THE PARK BENCH: Seeking refuge from her coworkers, a bank teller meets a mysterious stranger that inspires a whole new perspective on life.
THE MUSIC BOX: As Jack grieves the loss of his wife, an epiphany arises in the realm beyond, in the form of his daughter.
A CLOSED DOOR: Allison's nosiness unveils a secret about her roommate, Clare that she may very well be unprepared for.
A MESSAGE:  A mantra of 'Ethan' sends his love turns to be far too overwhelming for Dominque to cope with.
THANK YOU FOR COMING: A malevolent force may very well be the thing to provide Trisha with the awareness and closure she's been looking for.
LETTER TO GRANDMA: To grieve the loss of their grandmother, two siblings write a goodbye note only to realize the exercise has far more sinister results than conventional therapy.
IDLE THURSDAY: A first person perspective account on one woman's death as told from the other side.
Insomnia marks the premier reading odyssey undertaken with Kelly Covic at the helm. The author's prose is infectious. Her style, addictive. Reading these efforts are most comparable to becoming acquainted with a new friend. You can't wait to spend more time with her. All of the sudden you want to know everything about her. You find yourself even boasting all she is and has achieved to virtually anyone that will listen. When departed from the pages, you feel an unavoidable void and can't stop thinking about it.
Keeping the tone and perspective intriguing, varying from third person to first person point of view, the readership is instantly enthralled. Covic appears to have a firm grasp on what works best for each story for maximum impact. It doesn't take a literary aficionado to tell this author has certainly paid her dues.
Short, brief and concise, each of these tales averages around five pages. Covic illustrates the fine art of short story writing is very much alive and well. Drafting a story that resonates deep into the subconscious within a tight framework is no easy task.
Descriptive, imaginative and of course thought provoking, Insomnia places the reader directly into the fray of macabre mayhem. Perhaps most impressive is the vivid picture evoked. This collection is every bit as reminiscent as The Outer Limits, Twilight Zone or more currently The Cabinet of Curiosities or Creep show. Living HD imagery unravels within the brain. This reader, for one would love to see an adaptation translated unto a different media.
This collection is ideal for commuting, waiting rooms or virtually anywhere you wish to escape the cumbersome and slumber-some society. Each story unravels with an open ended, heighted climax that beckons the audience to draw his or her own conclusion. After all, creating a thought provoking, conversational piece of fiction long after the final page is absorbed; isn't that what just about any author strives for?
It's next to impossible to choose a favorite within this anthology; Much like asking a parent to choose their favorite child. Each protagonist holds an undeniable sense of vulnerability. Of course, being vulnerable opens the flood gates to susceptibility to the horror that awaits.
Covic has an enriched sense of empathy for each of the characters. We can relate to their plight. We sense their struggle and adapt it as our own.
The author also has an impressive and noteworthy sense of versatility for her readership. She also accentuates the appeal of a bast audience by penning under a different name, in the romance genre. One is often like the other in countless ways. Inquiring minds what to know.
Kelly Covic has a bona fide talent in conceiving a sense of suspended belief. The proverbial wheels whirl in our imaginations as we wonder; what if? It matters not how far-fetched the tale may be on the surface.
Insomnia was worth the sleep deprivation ten times over and I wish to personally thank Ms. Kelly Covic for this exquisite odyssey. For the rest of you-night night and don't let the bed bug's bite.