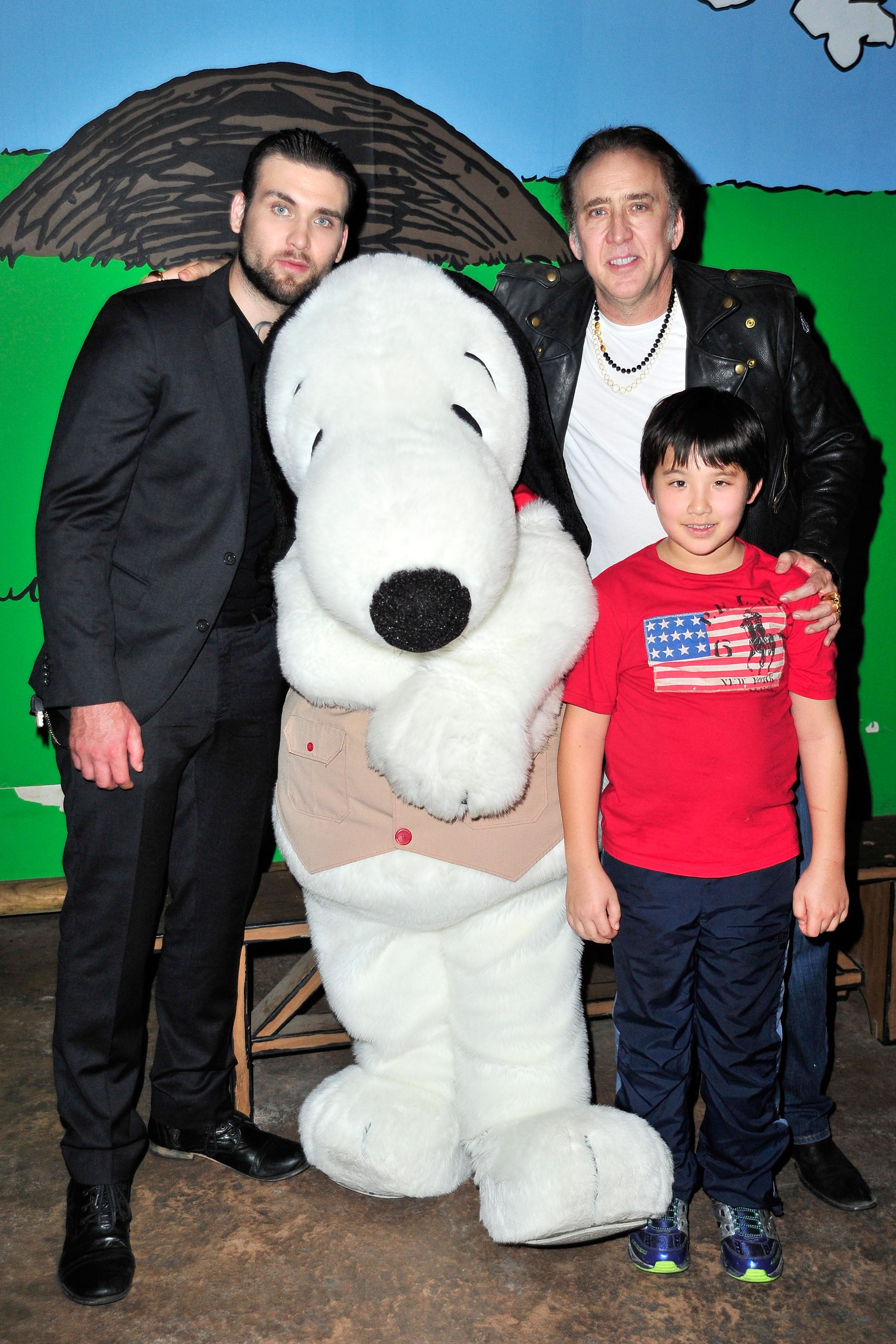 Image Source: Jerod Harris/Getty Images
Nicolas Cage is a character, and he's played some of our favorite characters to date. He's also been playing the role of dad for over 30 years. Nicolas has two sons, the first of whom was born in 1990, and now he's even taken on a bigger gig: grandpa to his four grandchildren. Nicolas's sons have grown up on Hollywood film sets and with famous friends, but they still lead fairly low-key lives, all things told. Nicolas himself doesn't have an Instagram to share pictures of his kids, but we do catch glimpses of the boys on red carpets and at events.
In 2022, Nicolas's family grew even more with the birth of his first daughter with wife Riko Shibata, whom he married in February 2021. Of parenting a girl after raising boys, Nicolas told ET in January, "It's a new adventure." In general, the "Renfield" star is enjoying those exciting moments of youth with his youngest. He told the outlet, "Reliving the experience of childhood brings it all back, and seeing how she's discovering new experiences."
And even though he tries to keep his kids away from his celebrity, he admits sometimes it bleeds through. "Well, when my first son was really little, he used to call me 'Nicolas Cage,' so he must have heard it from people," he told The New York Times in a Nov. 5 interview. "He didn't call me 'Dad.'"
Ahead, get to know both of Nicolas's three children a little bit better.
Weston Coppola Cage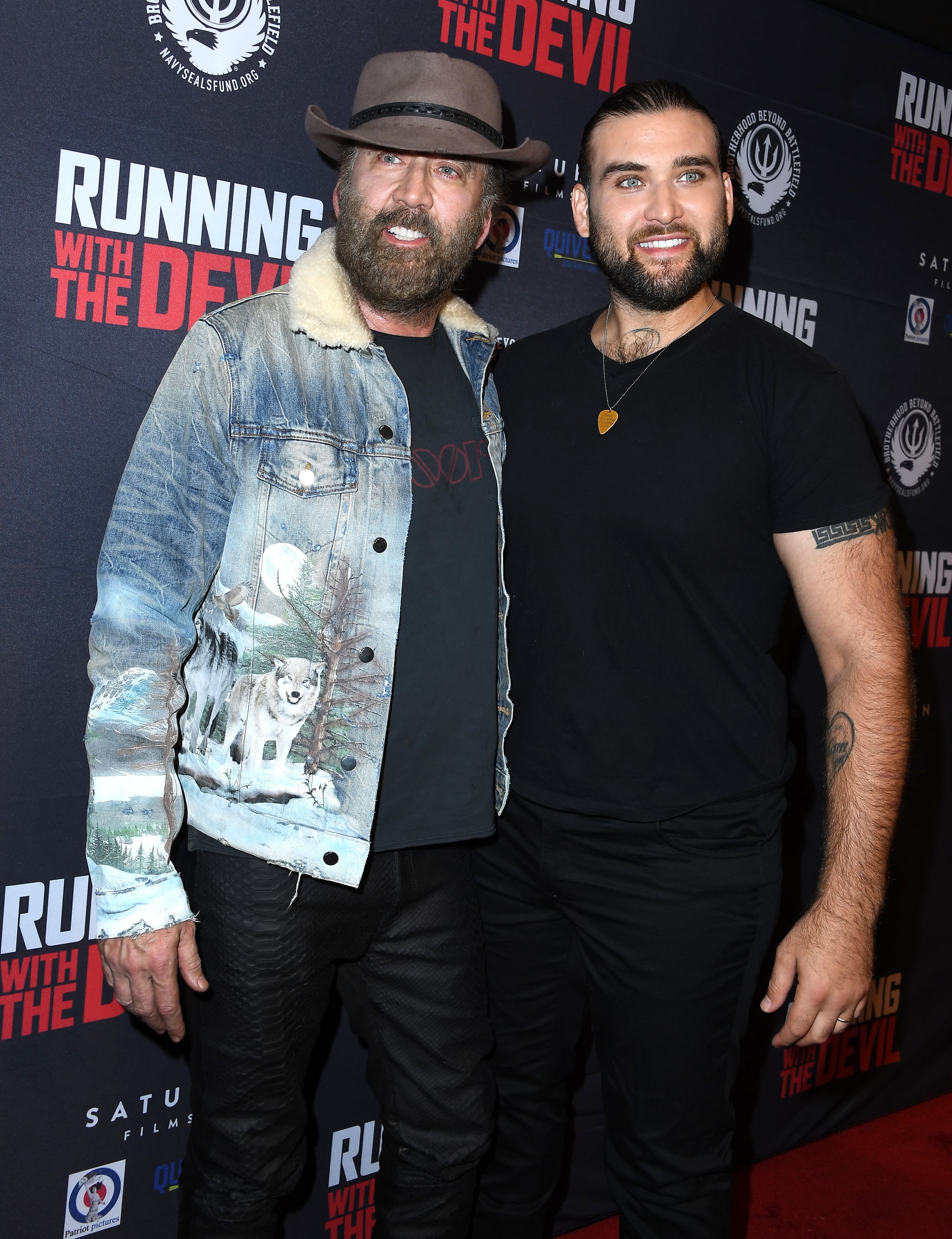 Image Source: Getty Images
Weston Coppola Cage was born Dec. 26, 1990. He is Nicolas's oldest son and his only child with ex-girlfriend Christina Fulton. Weston has been in two black metal bands, Eyes of Noctum and Arsh Anubis. At one point, Weston and his mother had their own fashion collection of menswear and womenswear, as well as some accessories. It was called FULCAGE. He's acted alongside his dad, as well as in roles of his own.
Of his acting, Weston told the Daily Mail in 2019, "My father introduced me to the importance of the many intricacies in acting, the dynamics of it. The importance of delivery, character background study and research. The best acting advice I've received is from my father. He told me about the importance of utilizing your imagination, your expressions and voice — a homeostasis of all those things together to really express your character's desires."
Weston spent his childhood in the presence of Hollywood legends who were friends of his dad's — Jim Carrey, Cary Elwes, and others. He flew all over the world at his dad's side while he took on major film roles, and even said in 2019 that he still has hope for the two of them filming a show together. "I would really love to be on a TV series with my father. That's something we've always liked to do together," he told the Daily Mail.
Weston also has four children of his own to keep him busy, sons born in 2014 and 2016 and twin girls born in 2020. He often shares pictures of his family on Instagram. Nicolas told People previously of being a grandparent, "I love it. Every second."
Kal-El Coppola Cage
Kal-El Coppola Cage was born Oct. 3, 2005. He is Nicolas's youngest son and his only child with ex-wife Alice Kim. He is, of course, named after Superman, whom Nicolas is a huge fan of. He's also followed in his dad's footsteps a bit and landed a voice role in "Teen Titans GO! to the Movies." Like Weston, Kal-El no doubt spends time with his dad on various film sets when he's not at home with his mother, whom Nicolas split from in 2016 after over a decade together. Unlike Weston, Kal-El's life seems to be a little bit more low-key, though, and he seems to mostly stay out of the spotlight.
August Francesca Coppola Cage
Shibata gave birth to the couple's first child together, daughter August Francesca Coppola Cage, on Sept. 7, 2022, in Los Angeles. She is named after the actor's late father. During Shibata's pregnancy, Nicolas told Access in an April 2022 interview that he was "extremely excited" about welcoming his daughter. And though he hasn't offered much information about baby August since then, he told Entertainment Tonight at the end of March that the little girl has musical talent. "She's singing really good songs. Her first song — I was very happy about it — naturally, it was about me," Nicolas recounted. "She went, 'Da da da, oun ja, oun ja.' I thought it was a great song. I'm gonna steal it and I'm gonna get rich off my daughter's song."