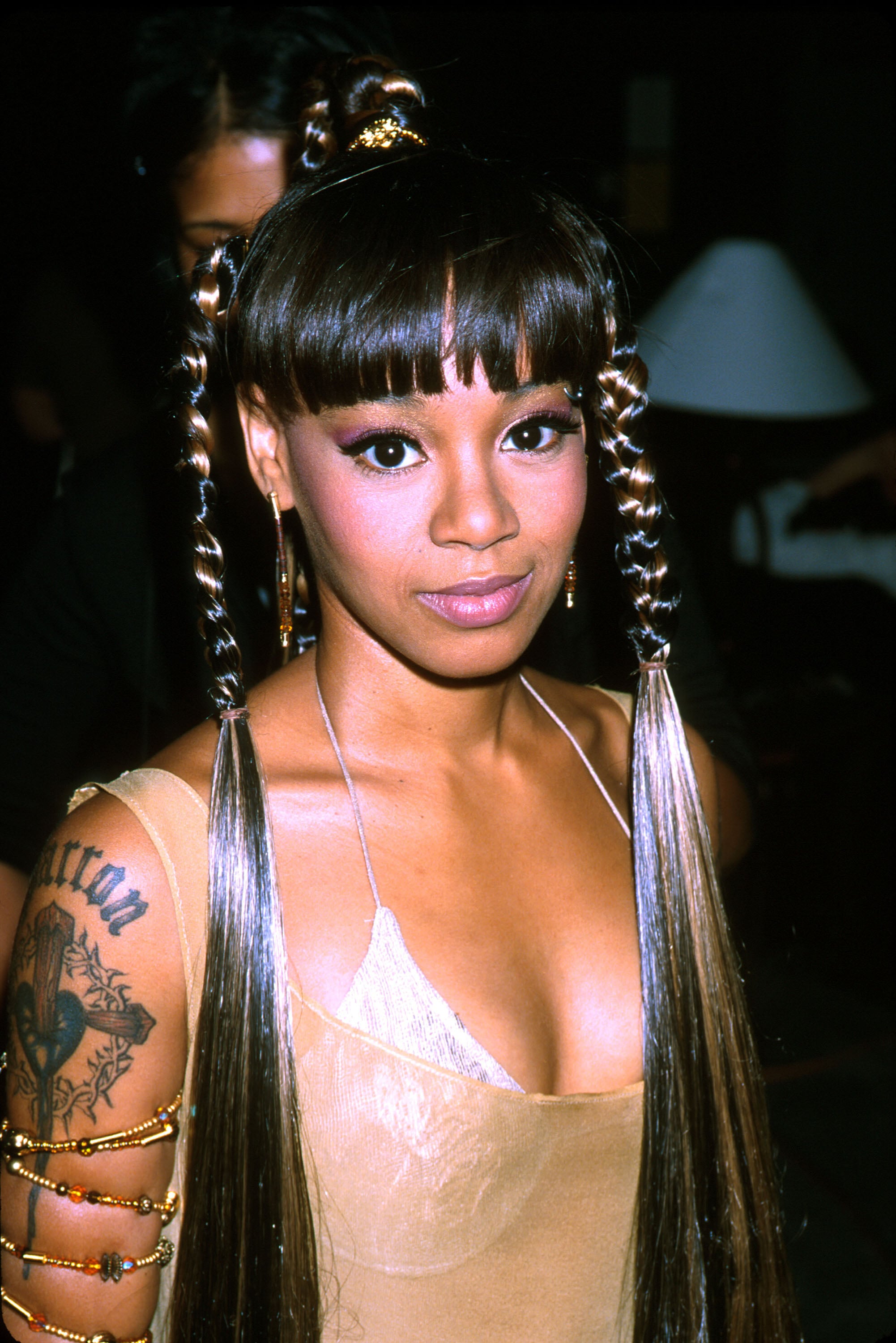 Image Source: Getty / Jeffrey Mayer
TLC is one of the greatest girl groups in history. The Atlanta-based trio, made up of Tionne "T-Boz" Watkins, Lisa "Left Eye" Lopes, and Rozonda "Chilli" Thomas, rose to stardom during the 1990s after releasing their platinum debut single, "Ain't 2 Proud 2 Beg," which received a 1993 Grammy nomination for best R&B song. Following their initial success, TLC sent nine of their singles to the top 10 of the Billboard Hot 100 chart — four of which went No. 1: "Creep," "Waterfalls," "No Scrubs," and "Unpretty."
Now, more than three decades since the group first made their mark, Watkins and Thomas are looking back at their prolific careers with the release of their new Lifetime documentary, "TLC Forever," which premieres on June 3. According to the documentary's official description, "TLC Forever" will not only touch on the group's historic success but their biggest downfalls as well, including "internal fallouts, external attacks, bankruptcy, and illness," which threatened to tear the trio apart. The duo will also open up about Lopes's death in 2002.
Learn more about what happened to Lopes ahead.
How Did Lisa "Left Eye" Lopes Die?
On April 25, 2002, Lopes died in a car accident just weeks before her 31st birthday on May 27. According to The New York Times, the accident took place while Lopes was filming a documentary in Honduras. The singer was driving a Mitsubishi Montero SUV and traveling from La Ceiba to San Pedro Sula when she lost control, per MTV News. The outlet also reported that, according to authorities in Jutiapa, Lopes was not licensed to drive internationally and was apparently speeding when she lost control. The car crashed in Roma.
"The police said it veered off the road and turned over several times," The New York Times reported at the time. While Lopes died at the scene, the vehicle's seven other passengers, which included Lopes's sister, Raina, and brother, Ronald, survived.
Notably, the incident happened just three weeks after Lopes was involved in another fatal crash that took the life of a Honduran boy named Bayron Isaul Fuentes Lopez. Lopes's assistant, Stephanie Patterson, was behind the wheel when the vehicle struck the child. Following the accident, Lopes reportedly paid for the boy's hospital and funeral expenses, per Entertainment Weekly.
What Happened to TLC After Lisa Lopes's Death?
After Lopes's death, Watkins and Thomas released a statement (via People), saying, "We had all grown up together and were as close as a family. Today we have truly lost our sister."
Despite the fact the pair were hurting, they felt compelled to finish the group's fourth album, "3D," which they dropped six months after the accident in October. "We wanted to finish what the three of us had started as best as we could under that type of pressure and pain," Thomas told USA Today (via Biography) about their decision to get back in the recording studio.
Watkins and Thomas then continued as a duo and even released a fifth album, titled "TLC," in June 2017. Today, the pair are still active as TLC and currently performing on their "Hot Summer Nights" tour, which kicked off with Shaggy on June 1.