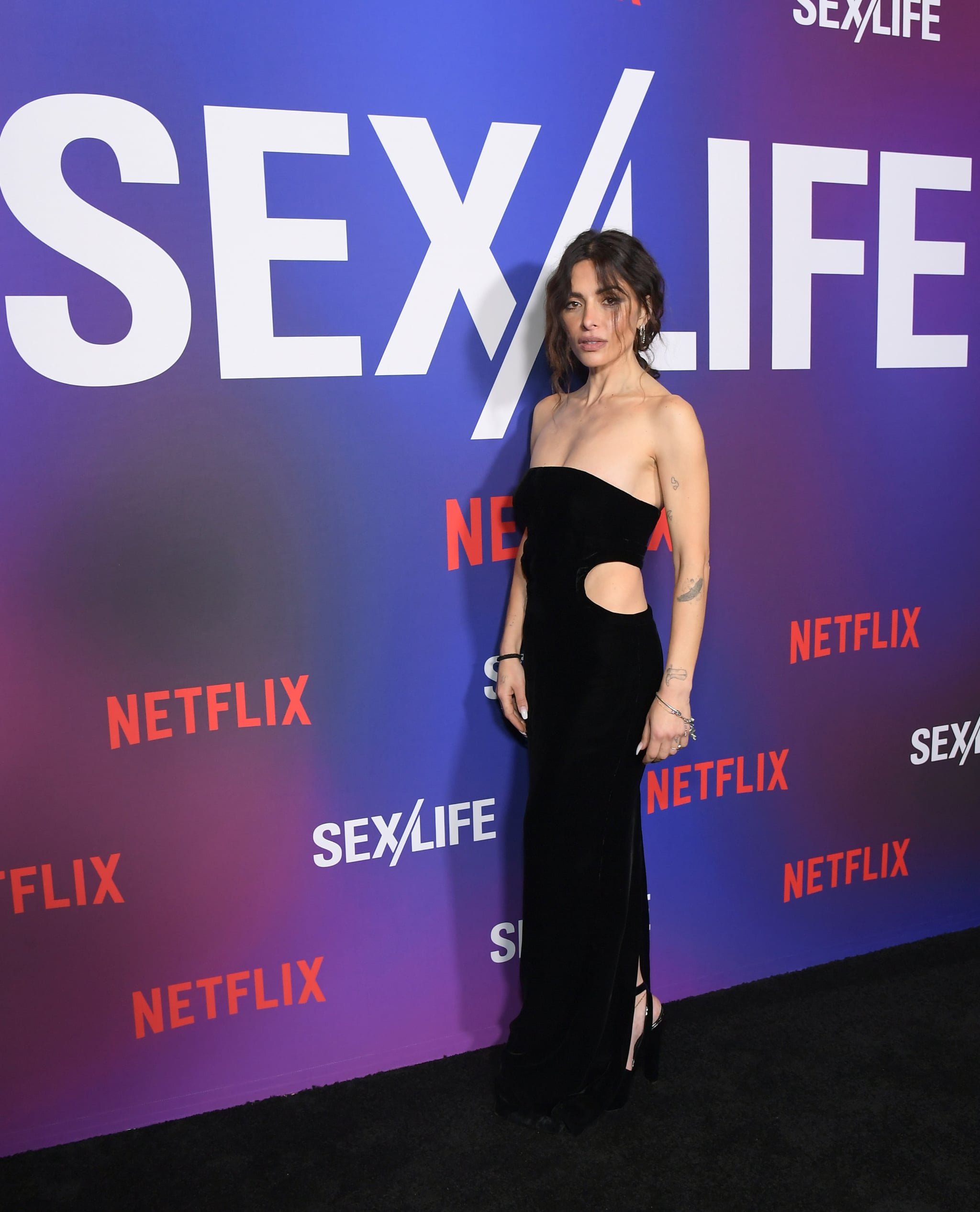 Something like 67 million households streamed season one of Netflix's steamy hit "Sex/Life" after it dropped last year — and apparently, a handful of them have children at star Sarah Shahi's kids' school.
"My kids' elementary school, I became notorious over there," Shahi jokes to POPSUGAR during a recent interview. "And I had to disguise myself for a bit because I became the poster child for unhappily married women. And so there was a lineup. I was like Dr. Ruth at 7-year-olds's birthday parties, just giving out love and relationship advice."
Shahi, who shares three kids with her ex Steve Howey — son William, 13, and twins Violet and Knox, 8 — is still "grateful," though, for every "beautiful" encounter she has with a fan who connected with Billie — even when they don't initially recognize her at first.
Shahi's boyfriend and costar Adam Demos, who plays Brad, usually gets spotted quickly if they're out together, she says. "If we're together, they'll hear his voice, and they'll instantly go, 'Oh, you're from that show. You're Brad,'" the actor recounts. "And I'm standing right next to him, and they just . . . They're like, 'You must be so proud of him.' I'm like, 'I am. I'm very proud.'"
Chimes in Demos, "[Once] we went somewhere to watch a concert, and we were sitting at the bar, and someone was like, 'Oh.' And recognized me from 'Sex/Life' and we were talking for a while, and then Sarah was right next to me, and then a few minutes after, they go, 'Holy f**k, it's Billie.' . . . And she was there the whole time."
Like his onscreen and offscreen partner, though, Demos is also happy for fan love in any form. "Everyone's so supportive and behind our show that everyone's lovely when they come and say hello," he tells POPSUGAR. ". . . Everyone's so excited and pumped about the show, and because of that, we get to do it again. We're here literally because of that."
Margaret Odette, "Sex/Life"'s Sasha, says the cast particularly felt the love from the Toronto, Canada, community where they filmed the series. "The city clearly loved having the show," she recounts. ". . . We definitely had folks who would come and take pictures while we were filming. And I remember the first time that happened because that had never happened to me before in my career, and it was so surprising. . . . I was really bowled over by how much they clearly were impacted by what they experienced of season one and wanted to be a part of it in that way."
For this second installment, Billie's romantic life has her navigating "new challenges and fresh desires" as she reckons with her old love (Brad) and her marital vows to Cooper (Mike Vogel), according to Netflix's logline. Season two of "Sex/Life" begins streaming on the platform on March 2.