Fans of Rihanna's Fenty fashion and accessories line might want to make an orderly queue outside Selfridges today because the brand's first ever UK pop-up has just opened in the London department store.
A Fenty pop-up recently took over Galeries Lafayette for Paris Fashion Week which was the first time the brand has teamed up with a department store and now it's hit London and fans are pretty stoked.
In London until 27 October, the pop-up will "present a collection of their most celebrated pieces from each release including accessories and shoes." After her successful launch of Fenty Beauty last September, the singer made her foray into high-fashion, backed by the powerhouse that is LVMH.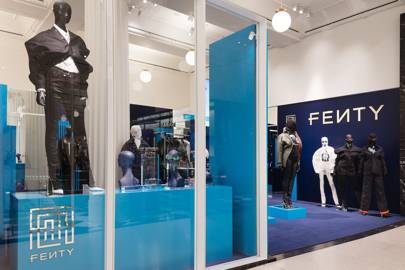 The details on the new Selfridges space are relatively vague, "a bold mix of their offerings to mirror the vibrant style of the people of London" said a statement. We're told, "signature Fenty pieces play with tailoring – a permanent wink to the world-renowned savoir faire of Savile Row. Releases '5-19: Buy Black', '8-19: Street Encounters' and '9-19: Take Up Space' mix powerful masculine and feminine looks and exaggerated silhouettes."
In Paris, the Fenty pop-up was housed in a lofty structure, surrounded by shades of light blues with lounge seating and cabinets showcasing eyewear, accessories and jewellery pieces, with the fashion collection displayed on sleek racks – we reckon we'll see something similar in London.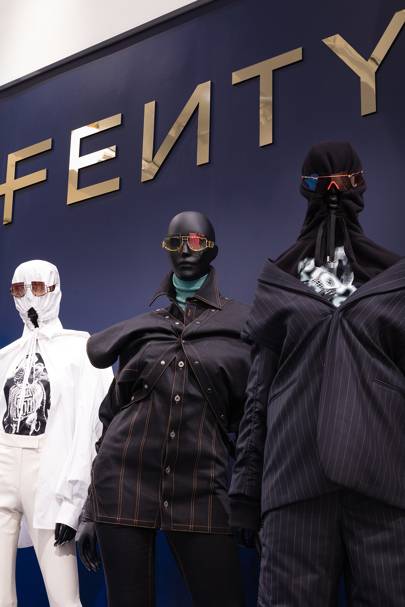 The space will be the brand's fourth pop-up worldwide, following the Paris pop-up during the brand's launch in May and another in New York in June.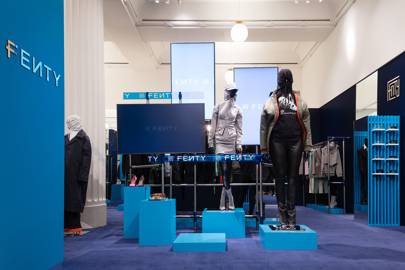 And we know what you're thinking, will you get to meet the actual RiRi herself if you pop down? You never know, you may get a surprise at the check-out…
The FENTY pop up will be open at Selfridges from Monday, October 14th until Sunday, October 27.