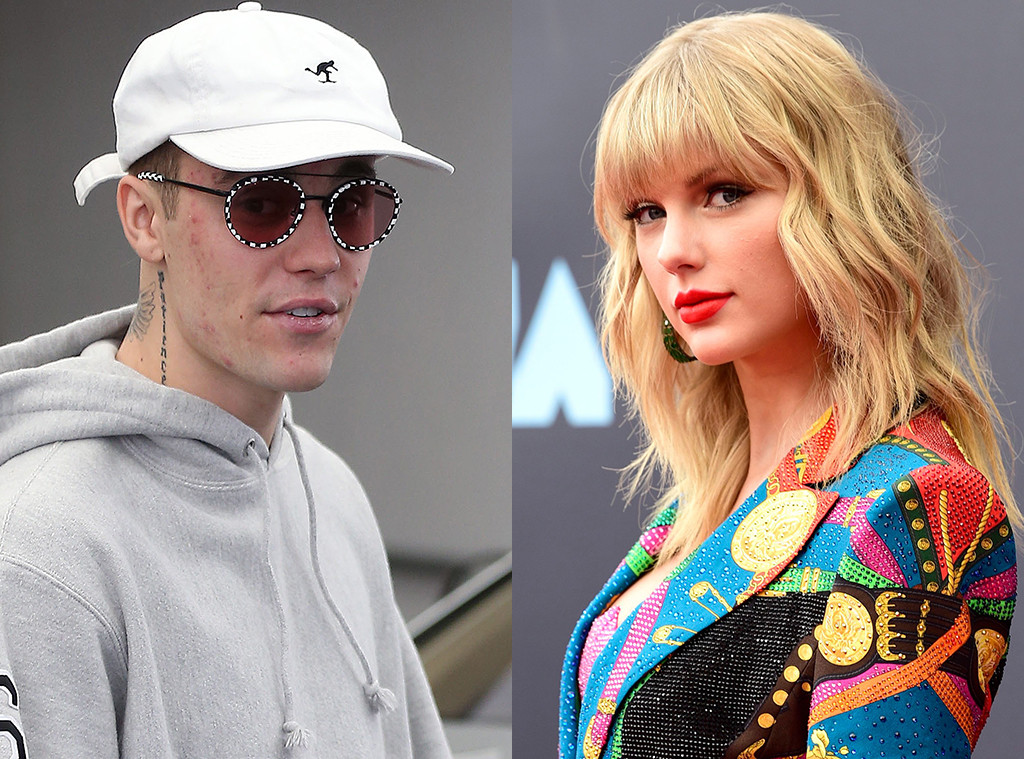 Broadimage/Shutterstock, Andrew H. Walker/Shutterstock
This is likely to stir up some bad blood.
During an Instagram Live on Sunday, Justin Bieber reenacted Taylor Swift's epic post-Lasik surgery meltdown. The livestream—filmed in the kitchen by his new bride Hailey Bieber, of course—captured Justin mimicking Taylor's recent freak out, as he screamed, "it's not the banana that I wanted." As Hailey laughed—"that was so funny"—he kept going: "It's not the right banana! It has no head!"
As fans may remember, Taylor has a soft spot for the fruit, which was unveiled on last week's The Tonight Show Starring Jimmy Fallon. In a post-op clip taped by her mom Andrea Swift, the superstar is groggy and snuggled up in bed with a banana. "Don't fall asleep," her mom instructed, to which Taylor replied, "I'm not asleep. My mind is alive."
And though Justin's interpretation was brief, Swifities think it was chock full of shade. After all, the music icons don't have the best track record.
Most recently, over the summer, Justin's manager Scooter Braun acquired Taylor's entire music catalogue, a notion that she said made her "sad and grossed out."
"I learned about Scooter Braun's purchase of my masters as it was announced to the world," she wrote in a lengthy Tumblr post. "All I could think about was the incessant, manipulative bullying I've received at his hands for years."
And she brought the with receipts. The "Lover" singer attached a screenshot of Justin's 2016 Instagram post, which showed him FaceTiming with Scooter and Kanye West. (ICYMI, he's been famously feuding with Taylor for a decade.) "Taylor Swift what up," Justin wrote as the since-deleted caption.
"This is Scooter Braun, bullying me on social media when I was at my lowest point," she wrote. "He's about to own all the music I've ever made."
Following Scooter's announcement, Justin took to Instagram to defend his longtime friend.
"Scooter has had your back since the days you graciously let me open up for you.!" Justin wrote to Taylor. "As the years have passed we haven't crossed paths and gotten to communicate our differences, hurts or frustrations. So for you to take it to social media and get people to hate on scooter isn't fair. What were you trying to accomplish by posting that blog? seems to me like it was to get sympathy u also knew that in posting that your fans would go and bully scooter. Anyway, One thing i know is both scooter and i love you."
In response, Hailey commented, "gentleman."
Don't miss E! News every weeknight at 7, only on E!