MAN INJURED IN A CATASTROPHE AWAKES TO FIND HIMSELF TRAPPED IN A STRANGE WORLD BUILT UPON THE FRACTURED MEMORIES OF OTHER PATIENTS
COMA
Fantasy, Action and Adventure Merge as Never Before in a Stunning Achievement Coming to Theaters on November 22, 2019 and Available on Digital In 2020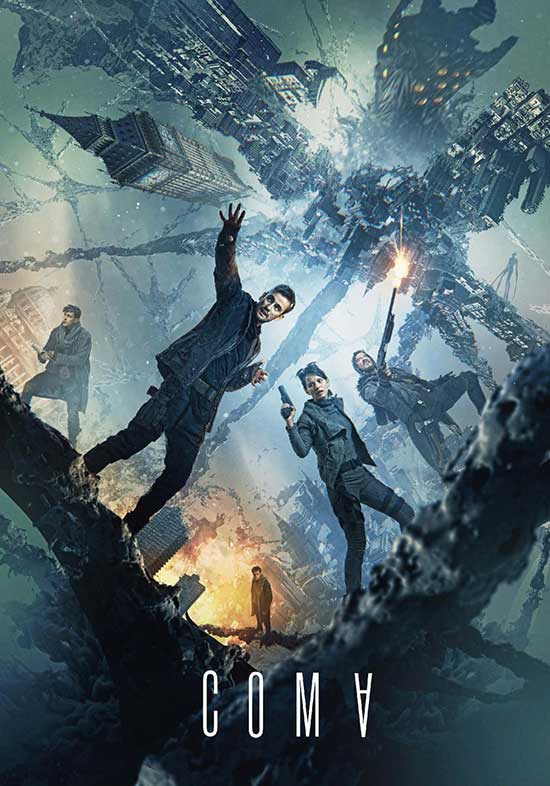 What if your world was suddenly made up of the splintered and confounding memories of countless coma victims? That is the amazing and original set-up for COMA, the year's most remarkable achievement in science fiction, action and adventure. The film will be released in theaters by Kino Film Corp and Capelight Pictures on November 22, 2019, to be followed by digital availability as well as on DVD and Blu-ray through Dark Sky Films and Capelight pictures in first quarter of 2020.
Writer-director Nikita Argunov makes an indelible debut with this mind-blowing sci-fi/fantasy action movie destined to become an instant classic. The artfully unwinding and disconcerting story centers on a young and talented architect who returns to consciousness after a horrific accident only to find himself in a strange and frightening dystopian world. It is a visually bewildering landscape, simultaneously rural and futuristically urban, filled with the visualizations of the memories of all current coma patients. Just like human memory and dreams, this world is fragmented, chaotic and unstable. This is COMA, where icecaps, rivers and cities can all exist in the space of a single room and the traditional laws of physics no longer apply.
The architect must decipher the exact laws and regulations of COMA as he fights to survive, meets the love of his life and frantically searches for the exit to the real world, which he will have to get acquainted with all over again – if it even still exists.
Fans of The Matrix, Inceptionand Source Code will immediately recognize COMA as the next thrilling level in mind-bending cinema.
vimeo.com/361059325/962747c323