Marrakech is one of the most beautiful and culturally-rich cities in Morocco – and the world. It's home to an insane amount of beautiful mosques, palaces and gardens and you'd never believe that this thriving medieval city sits just on the edge of the Sahara Desert.
As well as having a fascinating history, Marrakech is also a haven for all things wellness, as it has an extremely rich spa culture with luxurious Riads dedicated to health and wellness dotted all over the city, and now there's a thriving festival scene, too.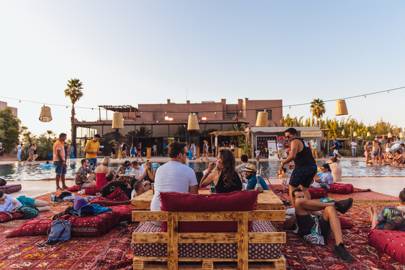 In Morocco, Hammams are a huge part of the culture. They are sauna baths that are used as often as weekly by Arabic women, making them an essential part of their lifestyle. Rough black soap is applied and scrubbed all over your body, then you're wrapped in ghassoul which is mineral clay mined from the Atlas Mountains of Morocco, followed by a relaxing cream and massage. If you're in Marrakech, don't leave without experiencing the Royal Hammam at La Mamounia.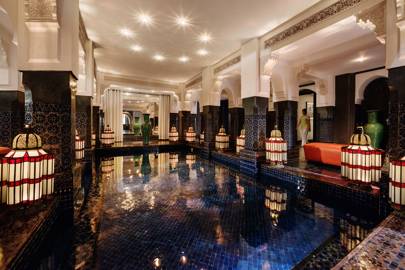 Then there's the best part, the music. Morocco is really taking their music scene seriously, with a rise in music festivals, especially electronic and dance music. This year, Marrakech hosted Oasis Festival for the fifth time. It is a unique electronic music festival that brings together wellness, music and art so you can soak up true Moroccan culture all in one go. The festival is set in the luxury boutique Fella hotel with Morocco's famous Atlas mountains as the backdrop.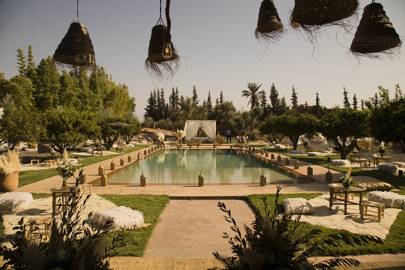 The festival hosts daily yoga and reflexology, there is no better way to jump-start a day of dancing than a relaxing yoga session under the Moroccan sun. The venue is perfect, there's tropical gardens, palm trees, cacti an hennam azure blue pools; it oozes bohemian glamour. You definitely feel like you're still in Morocco, not plonked next to a huge stage that could feel like any other festival.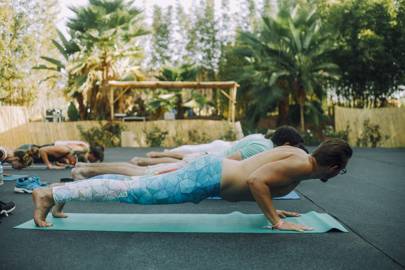 The best thing about this festival is that there's no long queues for anything, the bar, the bathroom, food, entrance – it runs as smooth as it's argan oil. Drinks are reasonable too, you won't end up spending a tenner on a Jagerbomb like UK festivals. There's cosy little break-out areas with traditional rugs, bean bags and nourishing street food offerings – you're guaranteed to find a seat to gobble up you're chickpea tagine almost anywhere at the festival.
There are three stages featuring a world-class line-up of both international and local talent. The line-up this year included Four Tet, Seth Troxler, and BBC Radio 1 favourite Jayda G. In previous years they have welcomed Carl Cox, Virgil Abloh and Sasha. Everyday from dusk until dawn music is playing leaving over 5000 attendees from eighty different countries in desperate need of a zen yoga reset.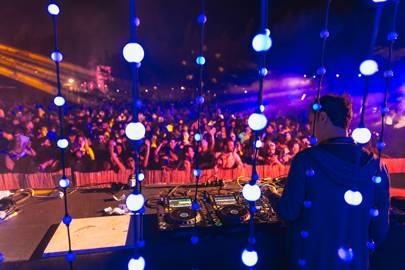 Away from the dancefloor, Oasis Festival showcases contemporary art and fashion that is redefining North Africa at it's latest venue at the festival – Mbari House. This boutique gallery has been curated by MACAAL (the Museum of African Contemporary Art Al Maaden) in corporation with fashion collective Art Comes First. Guests of Mbari House can view artwork by African artists, clothing by local designers and hear a range of panel talks and discussions by the founders and contributors.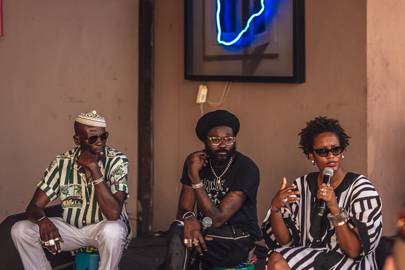 Oasis Festival is the perfect combination of Moroccan culture, international electronic music and wellness. Party hard beneath the stars then unwind and immerse yourself in some of the oldest beauty rituals in the city's best spas. Dance somewhere different next year, go to Africa.
For further information on Oasis Festival please head to theoasisfest.com