Chrome nails are a next-level manicure. That mesmerizing metallic finish looks its best when applied by a nail pro — take it from me, a chrome-nails failure — so I don't blame you if you dish out for a salon appointment instead of doing it yourself. But then again, if you're as savvy as TikTok user Jeanie Diep, you don't have to touch any polish or powder to get the look.
Diep recently posted a video to TikTok that has since gotten nearly a million likes — probably due to a combination of innovativeness and nostalgia. In the caption, she wrote, "DIY chrome nails you can do at school," and she proceeded to turn her already lovely red manicure into blue chrome one, all with some clever manipulation of gum wrappers.
Diep starts by flattening out the wrapper and separating the pliable foil from its papery lining. She then fits it atop her thumbnail, using her other thumbnail to get it as flush to the nail and cuticle as possible. The next shot shows her thumbnail flawlessly covered with the wrapper — Diep tells Allure she carefully uses an X-Acto knife to get the precise shape — followed by all the nails on her left hand.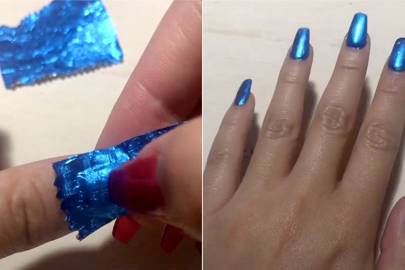 "This idea has been out for a while, and I decided to make a tutorial on it," Diep tells Allure, explaining that she learned it from a classmate.
And apparently, people have been doing this at their desks for decades. I'm guessing I missed it because it clearly works best on longer nails, which I didn't have in my school days (or now, for that matter), but Allure's own editorial assistant Angela Trakoshis says it was one of her favorite ways to not pay attention in class. "In middle school, we weren't allowed to chew gum, so we would literally unwrap and throw the gum away (wasteful, but true) and create gum-wrapper nails," she says. "My friends and I thought we founded it, but everyone on Myspace was doing it." Wow. From Myspace to TikTok. How far we've come.
Diep says she peeled the wrappers off right after making the video — she says it's very satisfying — but she thinks a top coat would be the key to making it last.
I asked nail artist Savannah Walker what she thinks, and she said, "Brilliant! I used to cover my books in that." But then I clarified that I was asking what she thought about using a top coat on the wrappers, and she totally agrees with Diep: "You could probably make it last if you did a gel top coat over it," she told me.
So whether you used to do this back in the day or this is a mind-blowing new hack to you, you've got a fun DIY beauty project to try this weekend. Check out the full video here