Brassy hair isn't the one – and unfortunately it's an unwelcome beauty blunder that affects both bleached blondes and natural blondes.
Thankfully, there's a simple way to banish unwanted brassy tones: swapping your regular shampoo for a purple shampoo. Purple shampoo is so effective because the hue is on the opposite end of the colour wheel to blonde so neutralises yellow tones. Magic!
And one purple shampoo in particular is receiving rave reviews online from impressed blondes.
L'Oréal Elvive Colour Protect Shampoo, which is £2.72 at Superdrug, is being hailed as a lifesaver for blondes, with users saying it's freshened up their colour and banished brassy tones with aplomb.
People took to Amazon to share their positive reviews, with one woman hailing it as the best silver shampoo she's ever used, also noting that it leaves her hair 'super soft'.
One shopper wrote: "I have a constant battle controlling brassy tones in my hair. This worked better than some expensive shampoos I've tried. Good value too".
People also took to the comments section to share their impressive before-and-after photos, which displayed just how effective the shampoo was at removing yellow tones.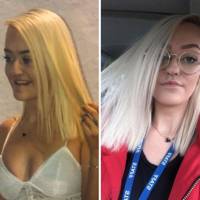 Impressed shoppers also noted that the shampoo worked wonders after just one use, with one writing: "After ONE shower, my hair was completely stripped of all the yellow tones and left me with a gorgeous white-blonde colour!!
"I definitely recommend to people who want to tone their hair lighter or to get rid of yellow-ness.
"It was so quick and easy follow the directions on the bottle to get the full effect."
On its website, the beauty giant explains that the shampoo's formula is packed with linseed oil and UVA/UVB filters to protect colour radiance, whilst keeping it looking nourished and shiny.
"Whether you're a blonde-turned-brunette, a pastel lilac or a fiery red-head, Elvive Colour Protect by L'Oréal Paris is specifically formulated to care for coloured hair," reads the description.
Race you to the checkout, blondes?
Read about GLAMOUR's full pick of the best purple shampoos.