Do you want to be part of the campaign to ensure every woman in the world has access to period products? Do you want to remove the crippling taboo around menstruation? To remove the stigma, so any woman who's in a cycle of period poverty can ask for help without shame and judgement? Activist Amika George tells you how.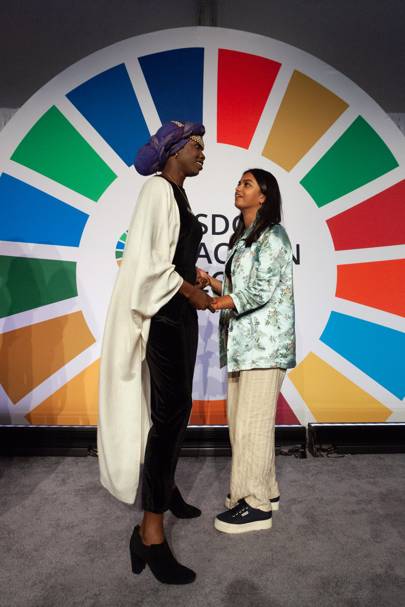 Dear Glamour readers.
What's your most embarrassing period moment? You must have one.
For me, it was shortly after I started my first period. I was 11 years old and in primary school. My period education was practically non-existent, and I had unwittingly put a pad on back to front. Within an hour, I'd leaked all over my gingham summer school dress. I was completely oblivious to this, until I got up from my desk to leave the classroom at the end of class and a boy in my form tapped me on the shoulder, laughing, and said, 'You've got blood all over your skirt'. I panicked and told him I'd cut my leg. I was mortified, and ran into the toilet and burst into tears. I was totally overcome with embarrassment and couldn't bring myself to go back to the classroom. I ended up going home early that day, saying I felt unwell.
This was hugely shameful at the time because, let's be honest, almost everything around periods has always been shameful. We go out of our way to avoid conversations about them. We shove our Tampax up our sleeve, or in our bras. Period products are swathed in secrecy, like dirty little secrets, with names like 'Discreet,' 'Whisper' and 'Secret'. It's not surprising that subconsciously, from a young age, we've been socialised into believing that periods are something to be ashamed of, to hide away, to apologise for. They are definitely not a subject for discussion in a public space.
Today, I'd like to change all that. And Glamour readers, I'd love your help, because we can change it together.
I'm Amika George. Two years ago, I started Free Periods at the age of 17 from my bedroom after learning that one in ten girls my age or younger, were missing school in the UK because they couldn't afford to buy period products. Did you know that 137,000 girls in the UK missed school last year because of period poverty? It's hard to believe, but 6% of parents have admitted to stealing period products for their children. It was clear that period poverty was hitting the very poorest families, and I knew that something had to be done.
I was angry for all those thousands of girls and women experiencing period poverty. I was riven with anger that children were forced to compromise their education because of something as natural and normal as their period. So, I started a petition, asking the government to provide free period products in schools, and it quickly grew into a global movement.
We held a peaceful protest outside Parliament in December 2017 which prompted the government to give a small amount of funding to period poverty charities. A year on, Free Periods won the Goalkeepers award from Bill and Melinda Gates in New York, which really raised the profile of the campaign on a global stage. After giving endless interviews after school, meeting with Ministers who promised to look into the matter and then did nothing, after writing article after article explaining why we need to end period poverty, and finally, after working with lawyers to start preparing a legal challenge against the government, in March this year, we learnt that the UK government had pledged to offer free menstrual products for all students in all schools and colleges in England.
This is incredible, but we need to do more.
Think about this: why aren't period products left in hotel bathrooms in the same way as shower gel, or shampoo? Why aren't pads and tampons available in every public bathroom? Part of the reason these, and issues such as period poverty and the tampon tax, haven't been tackled until recently is because of the wider reluctance to talk about periods. Bill Cash MP couldn't even bring himself to utter the word 'tampon' in Parliament! Until the shame and taboo ends, we will never see the changes we deserve to see.
This is because periods are seen as a woman's issue, something icky, something disgusting and something to be ignored. Sadly, this is entrenched in us from a young age. It's reflective of a wider attempt to silence women, and subordinate us. It's misogynistic, and the shame bound up in our periods makes us feel that anything outside the male experience is abnormal. This is all so wrong.
Women and girls have contacted me from across the globe, telling me that period poverty was affecting them. I went to Zambia and spoke to girls who are told by their parents to drop out of school the day they start their period. In these countries, school is no place for girls with a period, not just because of lack of access to pads (some go to school with pads made from cow dung or exercise books), it's also because these girls cannot cope with the intense ridiculing by boys in class.
Just a few weeks ago, a girl in Kenya killed herself after being period-shamed and humiliated in front of her class by her teacher after leaking onto her uniform. Earlier this year, one in five young women in the UK admitted being bullied about their periods. This has to stop.
As it stands, the needs of over half the world's population are persistenly side-lined. There's a clear gap in opportunities and decision-making power for women. Women across the globe have less access to education, less visibility, and lack the power and control of their own lives. And on top of that, we are made to feel that a natural, biological function, that's part of our ability to create new life, is abhorrent. This is why so many women suffer crippling period pain for years and are too embarrassed to tell their doctors and ask for help. This is why girls suffer from period poverty and refuse to tell their teachers or ask their friends.
We all need to be asking what we can do to change this. We all have the power to effect change, even in the smallest of ways.
This is where you come in. Today, I'm asking you, dear Glamour women, to make a video or a post of yourself on your Instagram or Twitter account, talking about your period. We need you to share your period experiences, the funny ones, the embarrassing ones, the awkward ones, or just tell us why we need to end the shame and stigma.
You will be joining hundreds of other women, from trans-people to those who will never get a period, from menopausal women to teenagers, and even from men, who want to live in a world without period shame. Adwoa Aboah, Deborah Frances and Scarlett Curtis will be amongst those who will share their stories this week.
These are all the incredible ways period brands are reducing their impact on the oceans – and we salute them!
Let's get everyone talking about periods. Let's stop being silent about our bodies. By talking about our periods as freely and honestly as possible, we can teach everyone that they are a completely natural process, and are absolutely nothing to be whispering about.. Let's normalise our periods, and finally remove the stigma and shame so that we can achieve real gender equality. It's the only way, and it really is time.
I can't wait to see your #FreePeriodStories.