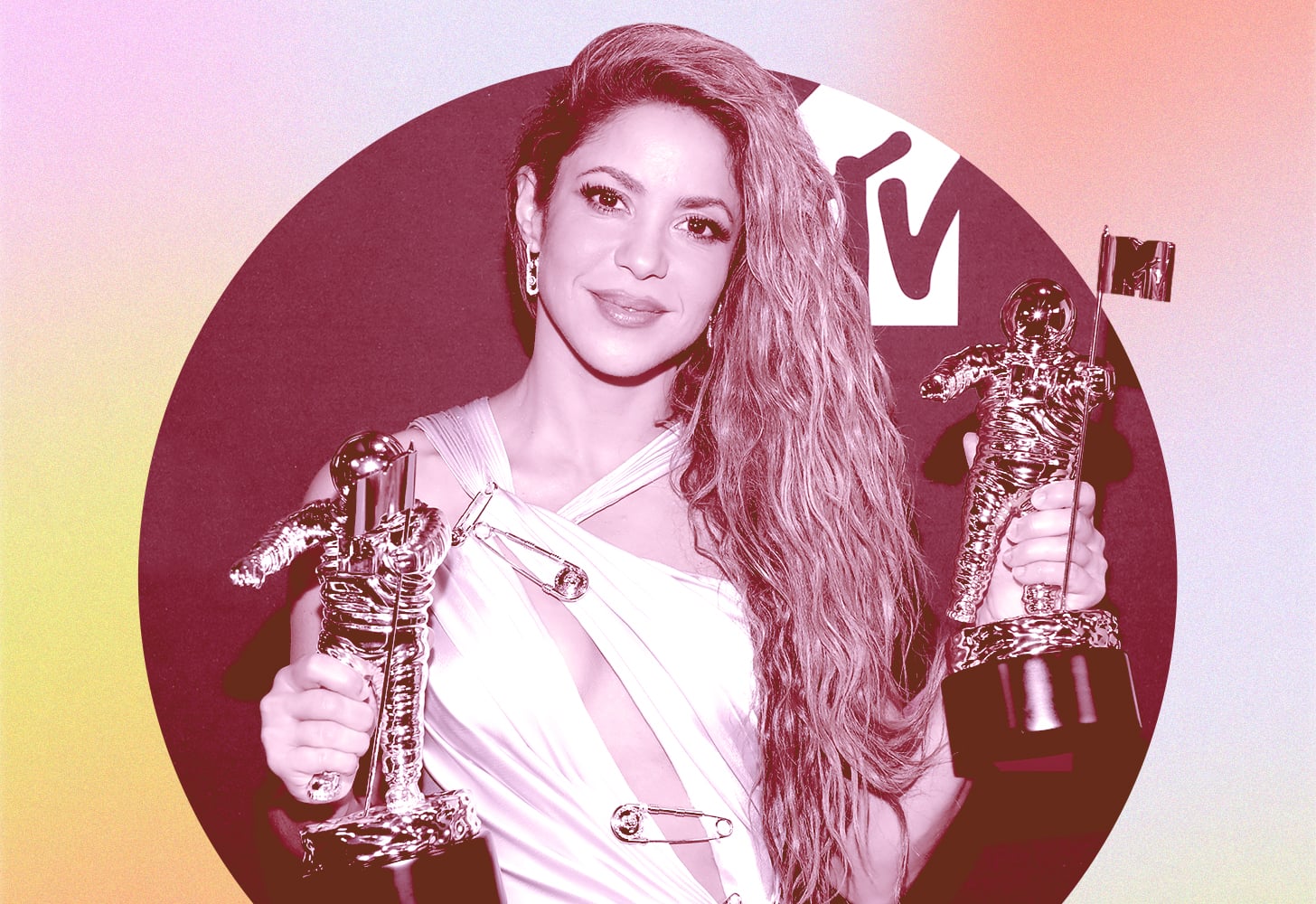 Colombian singer Shakira is often referred to as the Queen of Latin Music. She's credited as the pioneer who extended the global reach of Latin music singers. Since her breakup with ex Gerald Piqué in June 2022, Shakira has become an ever-stronger artist, releasing several hits, including "Monotonía" and her history-making diss track "Bzrp Music Sessions, Vol. 53." Shakira has also received a number of accolades and is nominated for several Latin Grammy Awards this year.
There's no denying that 2023 became the year of Shakira. Through this collection of stories, we are honoring Shakira's current success, where she started, and the impact she continues to have on the Latine community.
Shakira has become unshakable. More than 30 years into her music career, the Colombian pop icon remains on top of the world. Though she has gone through some challenging moments in her life, including a very public breakup with ex Gerard Piqué, Shakira has channeled those difficulties into her biggest hits yet.
"Women no longer cry, women get paid," she sings in Spanish in "Bzrp Music Sessions, Vol. 53." With seven nominations at this year's Latin Grammy Awards, including a historic three nods in the song of the year category, the queen of Latin music isn't letting her crown slip.
"Her success in the past year is a testament to her longevity, her continued evolution as an artist, and the unwavering dedication from her fans," Jesús Triviño Alarcón, Tidal's senior director of industry relations and global Latin, tells POPSUGAR.
Shakira's impact on the globalization of Latin music is indelible. She conquered Latin America with her rockera album "Pies Descalzos" in 1995 and proved her talent wasn't limited to one genre with 1998's "Dónde Están los Ladrones?" Shakira then crossed over in 2001 with her first English-language album, "Laundry Service." Instead of relying solely on English to make her mark, she brought over her newfound global audience to appreciate her music and artistry in Spanish with 2005's "Fijación Oral, Vol. 1."
Fellow Colombian Leila Cobo, Billboard's chief content officer of Latin-Español, has documented Shakira's successes since the beginning, including in her 2021 book "Decoding 'Despacito': An Oral History of Latin Music."
"I think her big successes reflect what Shakira can do when she is thoroughly focused on her music and her projects," Cobo says. "It's a state of mind she had not been in for a decade, and her success is a reflection of what can happen when she is 100 percent committed to the music."
Despite being on a roll, including co-headlining the Super Bowl halftime show in 2020 with Jennifer Lopez, Shakira admitted to Cobo at Billboard Latin Music Week last month that her career experienced a bit of a lull while she lived in Barcelona. She relocated there in 2013 with Piqué to raise their sons, Milan and Sasha. Shakira still landed massive hits during that time, including "Can't Remember to Forget You" with Rihanna and "Chantaje" with Maluma. But she revealed that she felt "alone" and "unmotivated" during that period.
"She says she had other priorities, her partner and her children, and she was living in Barcelona, which is not a music hub," Cobo says. "It was difficult for her to leave her children and take on the demanding task of being a music star."
In April 2022, Shakira seemingly hinted to something going awry in her relationship with Piqué in the breakup song "Te Felicito," which put her back on the top of the charts. Sadly, that June, allegations of infidelity in the song appeared to be true when Shakira and Piqué announced their separation. She used her music as a point of processing and healing from the heartbreak in the vulnerable bachata ballad "Monotonía" with Ozuna. The emotional track rocketed to No. 3 on Billboard's Hot Latin Songs chart.
2023 proved to be the year of the Shakira renaissance when she decided to pull no punches in her follow-up singles. In January, she teamed up with Argentine producer Bizarrap for the kiss-off anthem "Bzrp Music Sessions, Vol. 53." Shakira lyrically ripped her ex to shreds and also appeared to call out Clara Chia Marti, the woman Piqué allegedly cheated on her with. Thanks to following the advice of her son Milan to record with Bizarrap, Shakira pushed her sound to new places and hit No. 9 on the all-genre Billboard Hot 100 chart.
"Shakira has been surprisingly candid in her approach to her music at this time," Cobo explains. "Many artists speak in metaphors; she's been very direct in her messaging. What's interesting is that these very personal situations have resonated with so many people."
While closing out this epic saga of songs, Shakira shared the spotlight with another Latina, Colombian superstar Karol G. The two women teamed up for the knockout collaboration "TQG," in which they sing about how life was much better without their exes around (Piqué in Shakira's case, and Anuel AA in Karol G's case). Shakira notched a second top 10 hit on the Hot 100 chart this year with Karol G when the song peaked at No. 7. Their combined star power also complemented a historic moment in Karol G's career. In March, she became the first woman to debut at No. 1 on the Billboard 200 chart with an all-Spanish album when "Mañana Será Bonito" reached the summit.
"Even when [Shakira] recorded her parts, I was always on set because I didn't want to miss any moment . . . I remembered her entire career . . . And I thought, 'She's a legend, and she's here with me,'" Karol G told POPSUGAR in February of working with Shakira. Shakira, who has won multiple Grammy and Latin Grammy awards, might add more to her collection. Ahead of the Latin Grammys on Nov. 16, she has made history as the first artist to have three songs nominated for the same song of the year award.
She is up for "Bzrp Music Sessions, Vol. 53," "TQG," and "Acróstico," which features her sons singing with her. Having relocated to Miami with them, Shakira is continuing to crank out the hits, including the corrido "El Jefe" with Mexican-American group Fuerza Regida and the sultry "Copa Vacía" with Colombian heartthrob Manuel Turizo.
"I'm very excited about her upcoming album," Cobo says. "It will be a huge release, and I think it may also top the Billboard 200. I'm also thrilled at the fact that she's recorded all in Spanish in the past year. That is a huge boost for Latin music."
Image Source: Getty/Astrid Stawiarz/Illustration by Aly Lim