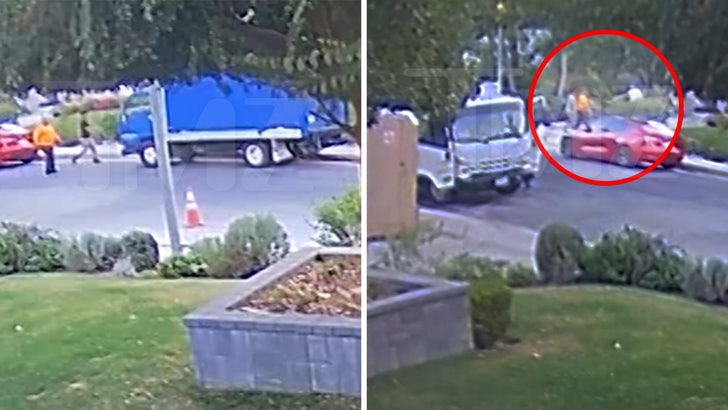 TMZ.com
Chilling video shows alleged murderer Samuel Haskell Jr. enlisting several men to remove heavy bags from his home — bags the laborers say contained body parts, and which police suspect are the remains of Haskell's missing wife and family.
TMZ obtained this surveillance video recorded Tuesday, Nov. 7 outside Haskell's home in Tarzana, CA. The ominous scene begins at 3:54 PM, as a man in a white shirt — who witnesses have ID'd as Haskell — waves down a blue moving truck to stop in front of his home.
Three minutes later, 2 men are seen lugging what appears to be a large, black garbage bag down the driveway and leaving it on the pavement. Then, at 3:58 PM, 2 other men are seen loading a 2nd garbage bag into the bed of a white truck — then they do the same with the first bag.
Haskell walks away from the group, back up his driveway, and 2 of the men get in the blue truck … as the white truck with the bags drives away.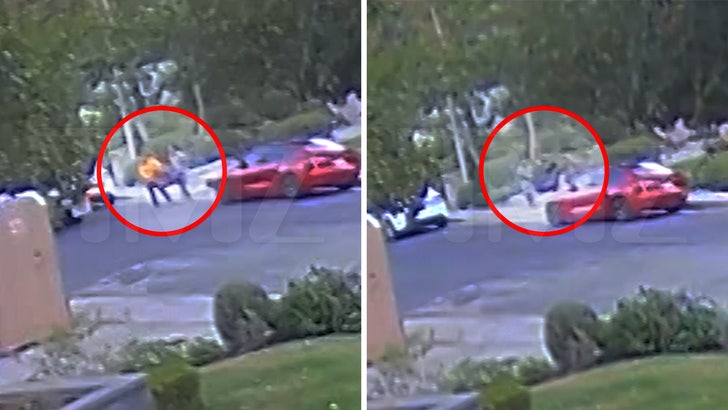 TMZ.com
Haskell — the son of former Hollywood super agent, Sam Haskell Sr. — waits 7 minutes, and drives away in his white Tesla at 4:08 PM, heading in the opposite direction of the truck.
The laborers have told NBC4 in L.A. they only got a block away before they decided something was not right. They say Haskell hired them to move 3 bags he said were filled with rocks, but the men found them to be soft and soggy. So, they pulled over to look inside, and discovered human body parts in one bag … including a belly button.
That's where the surveillance video picks up … at 4:15 PM the white truck is back in front of Haskell's house, because the men say they returned the bags and Haskell's money.
You can see Haskell meet them in the driveway … hands are extended, and it does seem like money is exchanged. The laborers say they left all 3 bags with Haskell, and at 4:17 PM, the truck pulls away again.
Finally, at 4:22 PM … Haskell drives off again in his Tesla, but what he didn't know is that the laborers went straight to police to report what they'd seen.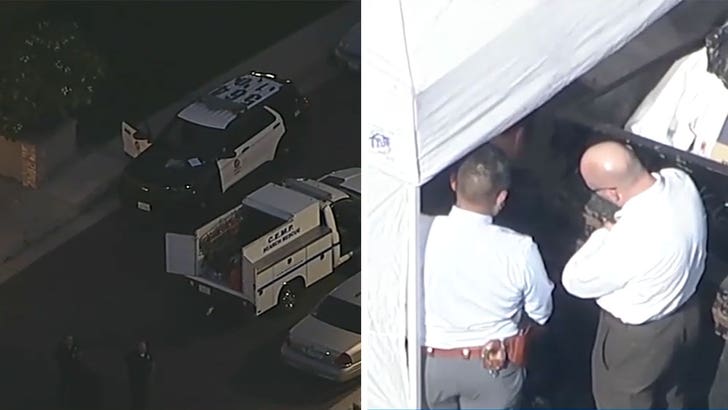 ABC 7
As we reported, Haskell was arrested in the evening of Wednesday, Nov. 8 … after a homeless person discovered a dismembered body earlier that day, stuffed in a bag and left in a dumpster. The dumpster is a little more than 6 miles away from Haskell's home.
Additionally, TMZ has learned police — after hearing what the laborers reported — went to the neighborhood Tuesday night to interview some of Haskell's neighbors, and asked if they'd seen any garbage bags left in his driveway.
Haskell's wife, Mei Haskell, and her parents are both missing … and, although police haven't identified the remains yet, the operating theory is they're the remains of Mei and/or her parents.
Police say they've found blood at the Haskell home, and evidence that leads them to believe there was a murder committed there.
Haskell Jr.'s father was once one of Hollywood's biggest power players — repping celebs like George Clooney, Dolly Parton, Ray Romano, Kirstie Alley and Tony Danza. He's now president of Magnolia Hill Productions, which has produced several of Dolly's Christmas specials and TV movies.
It's unclear if police have seen the surveillance video yet — but, obviously, it will be a major piece of evidence.
Haskell Jr.'s being held on $2 million bail.