In addition to CBD, a few other cannabinoids have started gaining popularity in recent years. One of these major hemp cannabinoids, which is believed to carry unique benefits both on its own and when combined with CBD, is CBG. While many consumers are utilizing CBG for effective relief from chronic pain, insomnia, and anxiety, it is important to distinguish which products are legitimate and which are not. That's why Real Tested CBD is providing you with this list of the best CBG products of the year so far.
As hemp plants mature, CBG, also known as cannabigerol, is the first cannabinoid to be produced (hence the name "Mother of Cannabinoids"). CBGA, the acidic form of CBG, is broken down by UV light and converted to other cannabinoids. Because of this conversion process, CBG remains a minor cannabinoid that is naturally found in small quantities.
However,some hemp growers have started to develop CBG rich stains. This is great news for those interested in CBG's many possible benefits. If you are interested in taking CBG for help sleeping, pain relief, or stress relief, consider giving one of the following lab-tested CBG products a try!
This CBG tincture contains a whopping 1,360 mg of CBG, which brings the cost per mg of CBG down to $0.04/mg of CBG! It also contains smaller amounts of CBD, delta-9 THC, CBC, and CBN. Like every other Dad Grass product we've tested, this CBG tincture also has great packaging!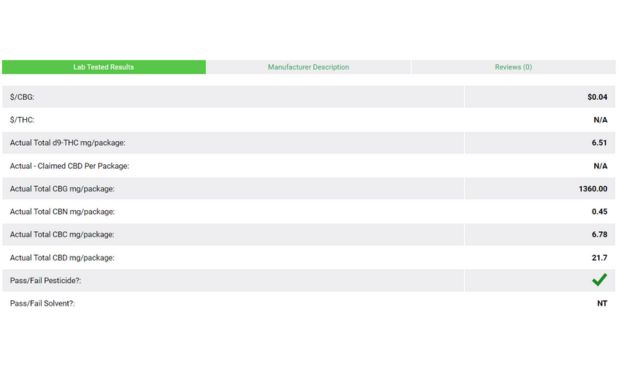 This CBG tincture from Hemptown USA claims to contain 1250 mg of CBD and 250 mg of CBG. It actually tested at 130 mg above the label claim for CBD. It also contains decent amounts of CBN and CBC. However, this product does not contain any amounts of delta-9 THC, which makes it a great option for those who don't wish to consume that cannabinoid.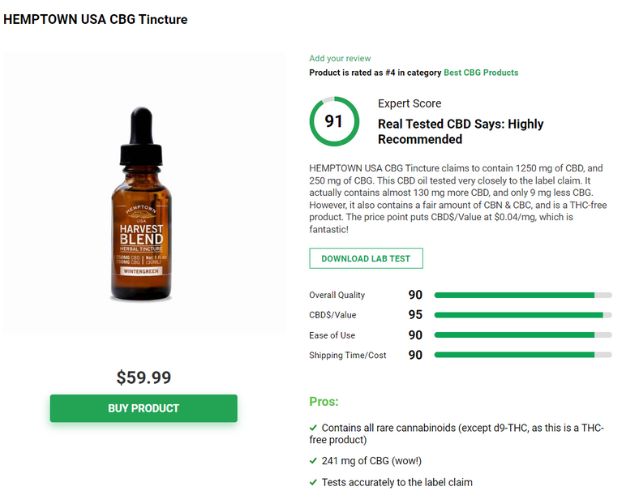 3.   Absolute Nature CBD CBG + CBD Oil Drops
This CBG + CBD oil from Absolute Nature CBD is very high-quality, tests extremely accurately to the label claim, and is moderately priced. The packaging claims that this product contains 500 mg of CBD, and 500 mg of CBG, and our test results show this to be true! It also contains nearly 50 mg of CBC. If you're thinking about trying a CBG + CBD tincture, consider giving this one a shot!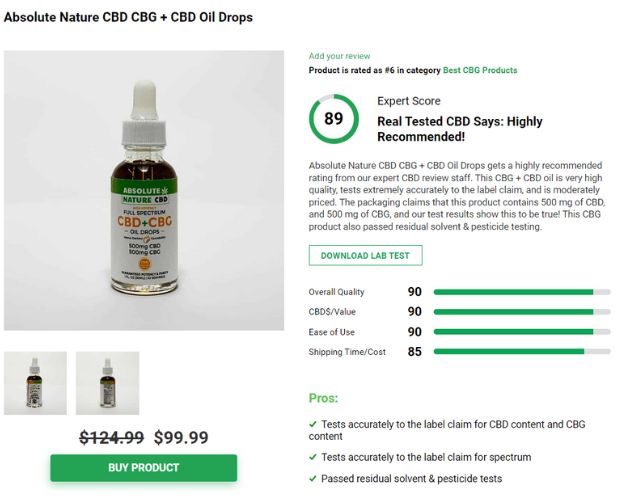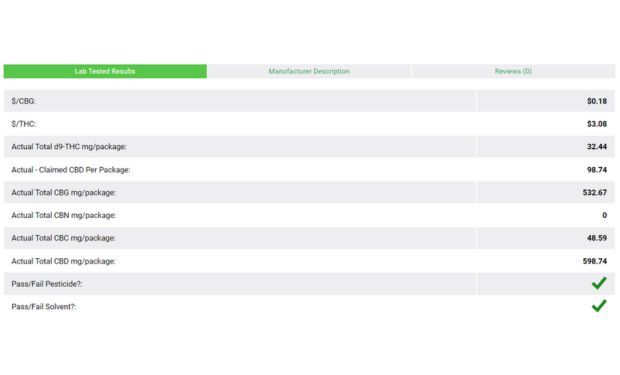 If you are looking to try CBG and experience its many potential benefits, starting with third-party lab test results is key. Finding a high-quality CBG product can be simple when you depend on third-party lab test results that break down exactly what is in any given product. That's why Real Tested CBD provides third-party lab test results and unbiased reviews for all of today's top CBG products. If you're ready to start shopping for reliable CBG, check out our rankings for the current best CBG products on our website.