Steadily, quietly, with the stealth of an MI5 agent, you could say, James Wolff has been building his reputation as a creator of spy stories that are grounded and intelligent, with a little wit and quite a bit of compassion too. How does espionage – normally regarded as another world by most of us – affect everyday people? Read a James Wolff novel and you'll start to find out.
In the past we've reviewed Beside the Syrian Sea and How to Betray Your Country, and now 'James' – whose identity is largely secret as he has been inside the service – is returning with The Man in the Corduroy Suit. The book loosely follows on from the first two and begins with the apparent poisoning of an MI5 agent. It's out on 18 May by Bitter Lemon Press, so we hastily completed all the forms in triplicate for authorisation to bring you this interview with the spy (novel) master himself…
First of all, please tell us a little bit about yourself and your background?
I'm a bit of a nomad: raised in civil war Beirut, evacuated to Cyprus after the Israelis invaded, endured a handful of miserable teenage years in England and then a much more enjoyable decade bouncing between Cairo, Damascus and Beirut. After that I returned to the UK and signed up for government service. It was that last stint as a Crown Servant that prompted me to write spy fiction.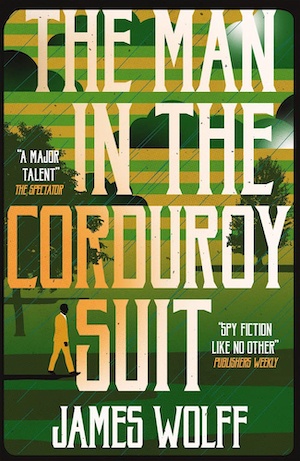 What do you think crime fiction lovers will love about The Man in the Corduroy Suit?
I hope readers will find a world that feels authentic, a refreshing absence of guns and fistfights, a plot that takes them by surprise once or twice, a protagonist who wins their respect – even if they wouldn't want to be his friend – and a handful of sentences that bring pleasure.
What inspired or how did you develop Leonard Flood, the lead character in your latest book?
Leonard's appearance came first – 'thin, bespectacled, bald on top and with a careless attitude to the stuff at the sides that in some neighbourhoods of East London makes him look more avant-garde than he intends'. I once heard a real-life spy described as 'having an ability to kneel on the bruise', and that went into the mix. Most of all, though, Leonard is an outsider, someone who feels misunderstood, excluded and mocked. His response to that is not submission, but a spirit of defiance that I very much admire.
What is he up against in The Man in the Corduroy Suit?
First and foremost, Leonard is up against the clock. He is given a matter of days to discover whether a retired MI5 colleague, Willa Karlsson, had 'even the slightest stink of Russia' in her life. Senior spooks are worried that Willa might have been a Russian agent who was bumped off by the SVR, Russia's foreign intelligence service, once they no longer had any use for her.
Tell us more about Franny and the partnership they form?
Franny is a fellow MI5 officer – a data analyst – who joins Leonard on the hunt to discover the real story behind a mysterious poisoning. They form an unlikely but successful partnership that thrives on the many differences between their characters. 
Jonas Worth, August Drummond and Leonard Flood – they're all a little bit crackers, in different ways. Why do you prefer spies who are hanging on by their fingertips, rather than the super spy type of protagonist?
Because I've met an awful lot of spies and not one of them was the superhero sort! At the best of times, they might be clever, quick-witted and intrepid, but they can also be bureaucratic, vain and slow to see things coming. The world of espionage is rich in drama, but for the most part it's not the James Bond kind of drama.
We noticed there's a shift here to Russian plots whereas the first two books involved the Middle East. In terms of intelligence operations and espionage, how much are you inspired by what's happening in current affairs, with the plots going on between the West and Russia, and the West and China? And how much do you just make up?
I'm not consciously hitching my novels to real-life stories, but I suppose it would be disingenuous to pretend there aren't shades of Sergei Skripal in The Man in the Corduroy Suit. Having said that, my novels really are entirely made up: I do absolutely no research whatsoever. The texture is real – that's very important to me. I believe that everything that happens in my books could conceivably happen in real life. But in creating the stories and characters I am led entirely by my imagination.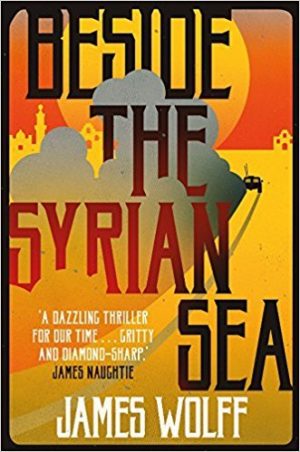 Are there any interesting stories you're following from real world intelligence work at the moment? Fresh ideas, perhaps, for future books?
I am out of the spy game now, but I suspect the Ukraine war is proving a huge, once-in-a-generation opportunity to degrade the capabilities of Russian intelligence. Their officers must be defecting in droves! I am sure this new reality will be reflected in future spy novels.
Which other crime or espionage authors have been influences for you? What are you reading at the moment?
I grew up reading American crime novels. Something about them seemed to chime with my Beirut surroundings – the gunfire, the old American cars. These days I like dipping into George V Higgins, Elmore Leonard, Richard Price. Just today I picked up a George Pelecanos novel that I can't wait to read. Colson Whitehead's Harlem Shuffle is a blast, and I never get tired of recommending The Yiddish Policeman's Union by Michael Chabon.
Could Jonas, August and Leonard work together? Why/why not?
Jonas and August were friends of a sort; their relationship is described in How to Betray Your Country. In The Man in the Corduroy Suit, Leonard recalls doing an operation alongside August, and the way he learned from August 'something about professional curiosity that he has never forgotten'. The three protagonists all have something in common, which is that they are all curious, unusual and talented outsiders. On that basis alone, I think they would work together well.
What's next for James Wolff?
I'm working on a couple of TV projects and itching to get started on the next novel.
You can grab a copy of The Man in the Corduroy Suit using the buttons below.