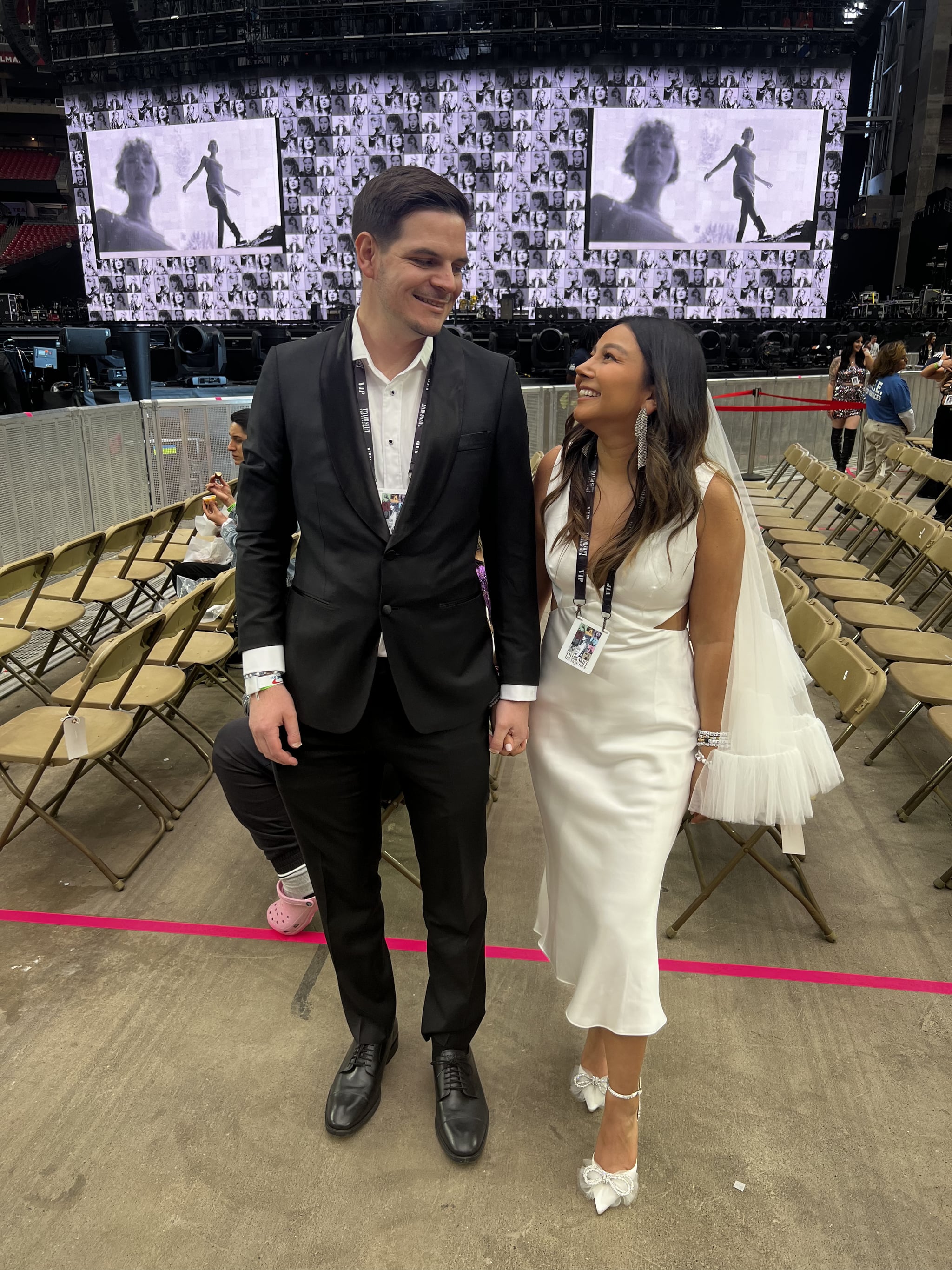 Someone just said "I do" at an Eras Tour stop — and is breaking down everything that went into the big moment in front of Taylor Swift's stage. René Hurtado, a 30-year-old California native who serves as a workplace operations manager for a tech startup, married Max Bochman, 32, during night two of Swift's Eras Tour at State Farm Stadium in Glendale, AZ, on March 18, she confirms to POPSUGAR. Their maid of honor officiated the wedding after being ordained in the state for the big occasion.
"I really love Taylor because she is the greatest songwriter, I think in my lifetime. Not even of our generation — I think ever," Hurtado says days later, still awash in newlywed bliss and the subject of much internet attention.
Hurtado and her new husband now reside in Tempe but first got together more than eight years ago while working for the Stockton Ports, a minor league baseball team. Bochman popped the question in September 2021, long before Swift ever announced her career-spanning tour and dates were released. But pre-wedding-party nuptials were always the plan for the couple. Hurtado says she was eager to take her new husband's last name and didn't want to wait for the big festivities. "When we started thinking about it logistically, it made sense to get legally married ahead of time," she explains. "Last summer, I started telling Max that I wanted to elope the day of Taylor's concert, whenever that would be. And then we would go to her concert as our reception. And then my friends kind of came up with the idea of, 'You should just get married at the concert.' And I thought that was really fun and it sounded like something I would do because I like to do things a little bit outside of the box."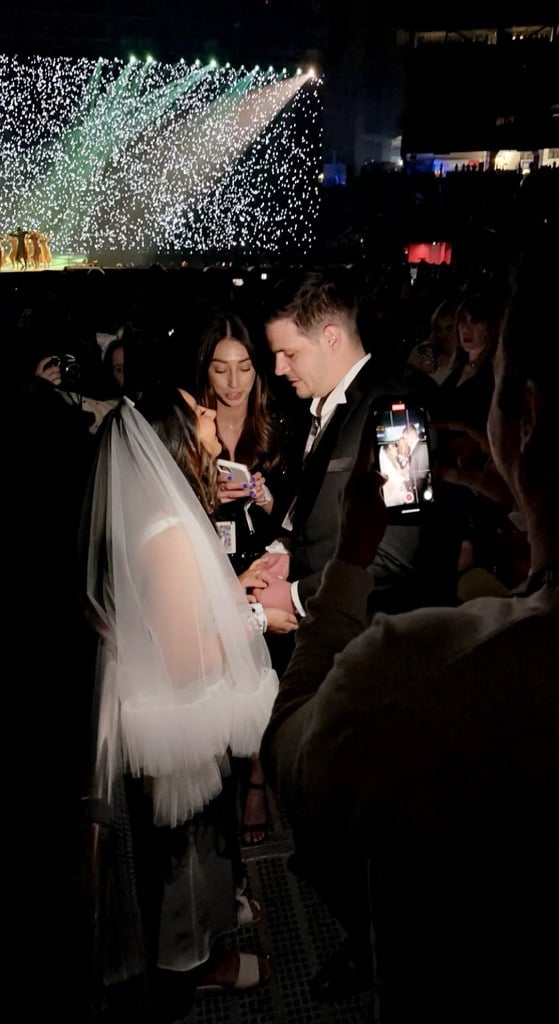 Bochman took a little convincing, though. Well, several months of convincing. "He does like Taylor, but he's not a hardcore Swiftie like me. Taylor doesn't run through his veins like she does me." Ultimately, she says, "He was like, 'OK, I'll do it. Because I know it'd be super special for you.' "
Luckily, Hurtado didn't have to navigate the much-discussed Ticketmaster debacle that left many fans without Swift tickets, which would have been another obvious roadblock. "I had a whole squad with presale codes," she says, laughing. And with just 15 minutes in the virtual queue, front-row seats to her wedding were secured.
On the big night, Hurtado — wearing a white Anthropologie gown and veil — says they opted to say their vows during a "quiet time in the arena." But other fans sitting around them quickly noticed what was happening. "When we kissed, they all cheered, and they were just so nice to us," she says of the unintentional wedding attendees. And while she hasn't heard from Swift herself (yet), she says one of the singer's team members gifted her a guitar pick she used during the show. Hurtado believes it was the pick Swift used to play "Invisible String," which happened as the couple concluded their makeshift ceremony. "That makes it 10 times more special," she says.
Hurtado admits she did expect some of the internet attention videos of her vows have gotten on platforms like TikTok, but mainstream media coverage is a surprise. And now she and Bochman can focus on their big, traditional wedding celebration set for March 2024. Just like they did over the weekend, they'll likely walk down the aisle accompanied by Hurtado's favorite artist, of course.
Image Source: René Hurtado