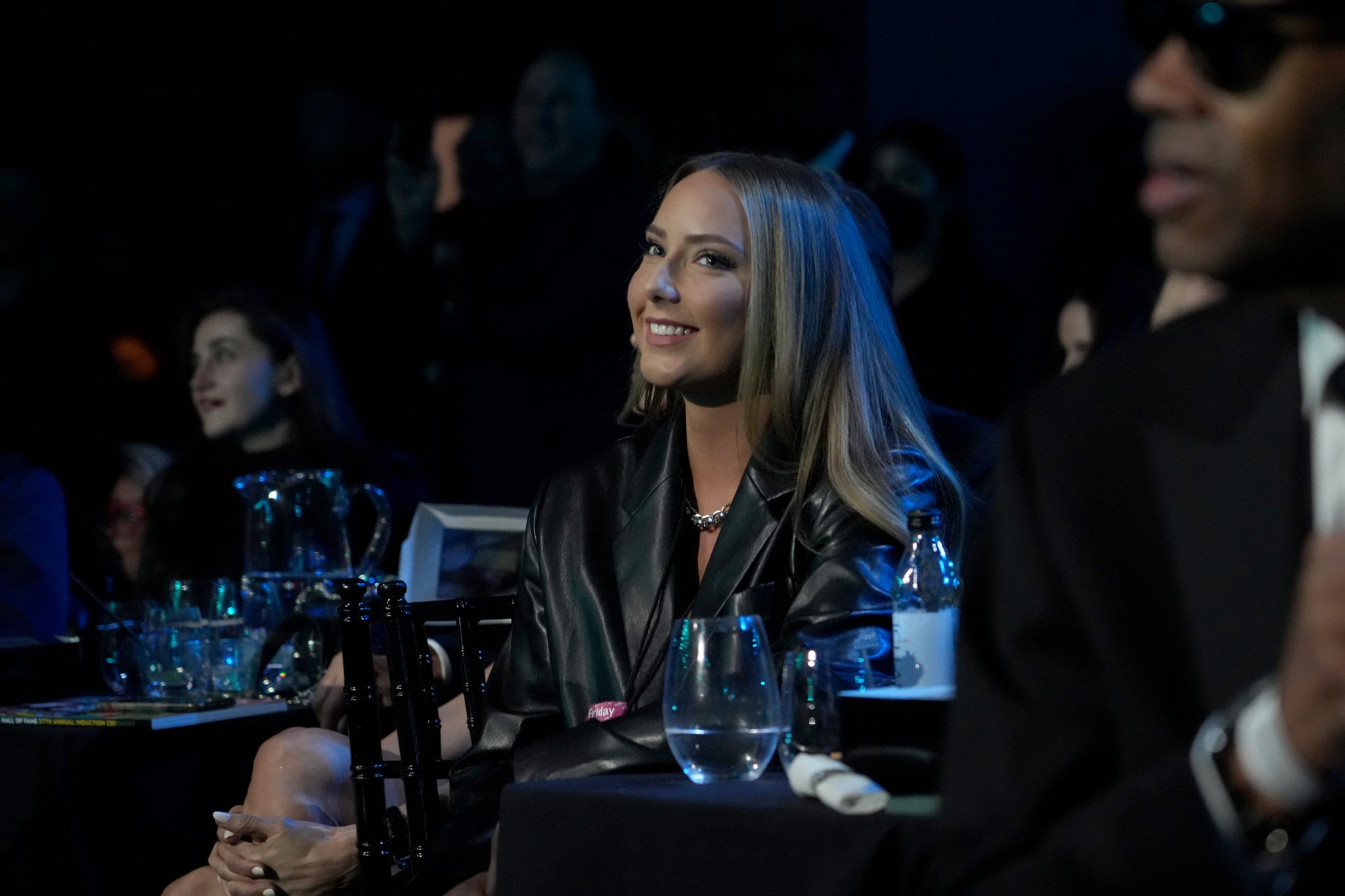 Eminem's daughter Hailie Jade is engaged! On Feb. 6, the 27-year-old "Just a Little Shady" podcast host announced on Instagram that her longtime boyfriend Evan McClintock popped the question. Alongside photos from the sweet proposal, taken by Erika Christine Photography, Jade wrote, "casual weekend recap… 😭💗 2.4.23 💍 i love you @evanmcclintock11."
Almost immediately after posting, Jade's loved ones chimed in with congratulatory messages in the comments. Jade's sister, Alaina Marie Scott, expressed her excitement over the milestone, writing, "😭😭😭 couldn't be happier for the two of you🍾can't wait do this chapter of life with you guys❤️."
Weeks later, in the Feb. 24 episode of her podcast, McClintock made a guest appearance to spill all the details — and chaos — that went into pulling off his engagement surprise without a hitch, including how he asked her father, aka Eminem, for his blessing.
"Over the holidays, I was looking for an opportunity not to make it too obvious," McClintock said about plotting his discussion with Slim Shady himself (Jade's birthday is on Christmas). "I saw your dad go downstairs, and I'm like, 'I gotta do it right now, or I'm not doing it today, and I'm gonna have to schedule another time.' So I just followed him downstairs and, thankfully, he was just down there getting your cake, and made it happen."
Once McClintock got the rap legend's approval, planning the engagement became complicated. He had their close friends invite them out for dinner at a restaurant they frequent, and he knew he had to get her to the restaurant on time, but Jade was hyperfocused on something else that weekend. "You committed to the plans on a Monday . . . and I would kind of bring it up throughout the week, and I could just tell you were just thinking about this new studio," he said, referencing Jade's new podcast studio.
Jade got the keys to her new spot the day before McClintock planned to pop the question, so she missed all the signs about what would happen. "I can't have that much on my head at once," she explained at one point. "I'm not good at multitasking, so if I'm focused on one thing, the rest is going over my head."
Jade realized so many hints after the proposal that she didn't before, like when McClintock happily accompanied her to Target to shop for her new studio's decor. "I should have known right then and there that something was up," Jade said. Jade and McClintock's conflicting goals for the night also caused some tension since McClintock kept trying to rush her out of Target because they had to go "get drinks" with their friends. "I was like, 'All you care about is getting drinks. Like, really?' I was getting pissed. I'm like, 'I wanna furnish this studio. There's no chance.' I was getting so mad," Jade recalled.
Adding insult to injury, when they returned to their house, McClintock began primping for their dinner that night instead of helping her pack up their car with all the furniture she wanted to bring to the studio after dinner. "I'm like, 'Why aren't you helping me pack up the car?' . . . He's, like, steaming a shirt. And I'm like, 'Bro! Start packing up the car. What are you thinking? We're going to the studio after dinner.'"
Luckily, McClintock was able to convince Jade to dress up. "I'm like, 'Should I be getting dressed nice?'" Jade recounts. "And he's like, 'No, it's up to you. I mean, we just never really go out on the weekends anymore. Like, I kind of want to dress nice.'" His sentiment convinced her to get a bit more dolled up (but McClintock packed a backup outfit just in case, courtesy of Jade's younger sister).
The final straw came when, at the restaurant, McClintock — who is usually a "Ladies first" type of guy — walked in front of Jade into the restaurant. "I'm like, 'Why is he going in front of me?' . . . You're usually, like, a gentleman. I'm like, 'This guy is really just grinding my gears today.'"
It wasn't until Jade peeped McClintock's engagement surprise of flowers and champagne that all the clues clicked into place. "And then you walk outside on the patio where it was, and I see the table. . . All I could say was the F-word." After realizing what was happening, Jade felt bad about her mood throughout the day. "I was like, 'Oh f*ck, I'm such an asshole.'"
Still, in the end, McClintock's proposal went off without a hitch in the grand scheme of things! Jade leads a pretty private life, so her new episode of "Just a Little Shady" is probably the most we've learned about her and McClintock's relationship, besides the fact that they've been dating since college. Jade first gave fans a glimpse of her romance with McClintock on Instagram in December 2016.
Watch Jade and McClintock tell their engagement story themselves below.