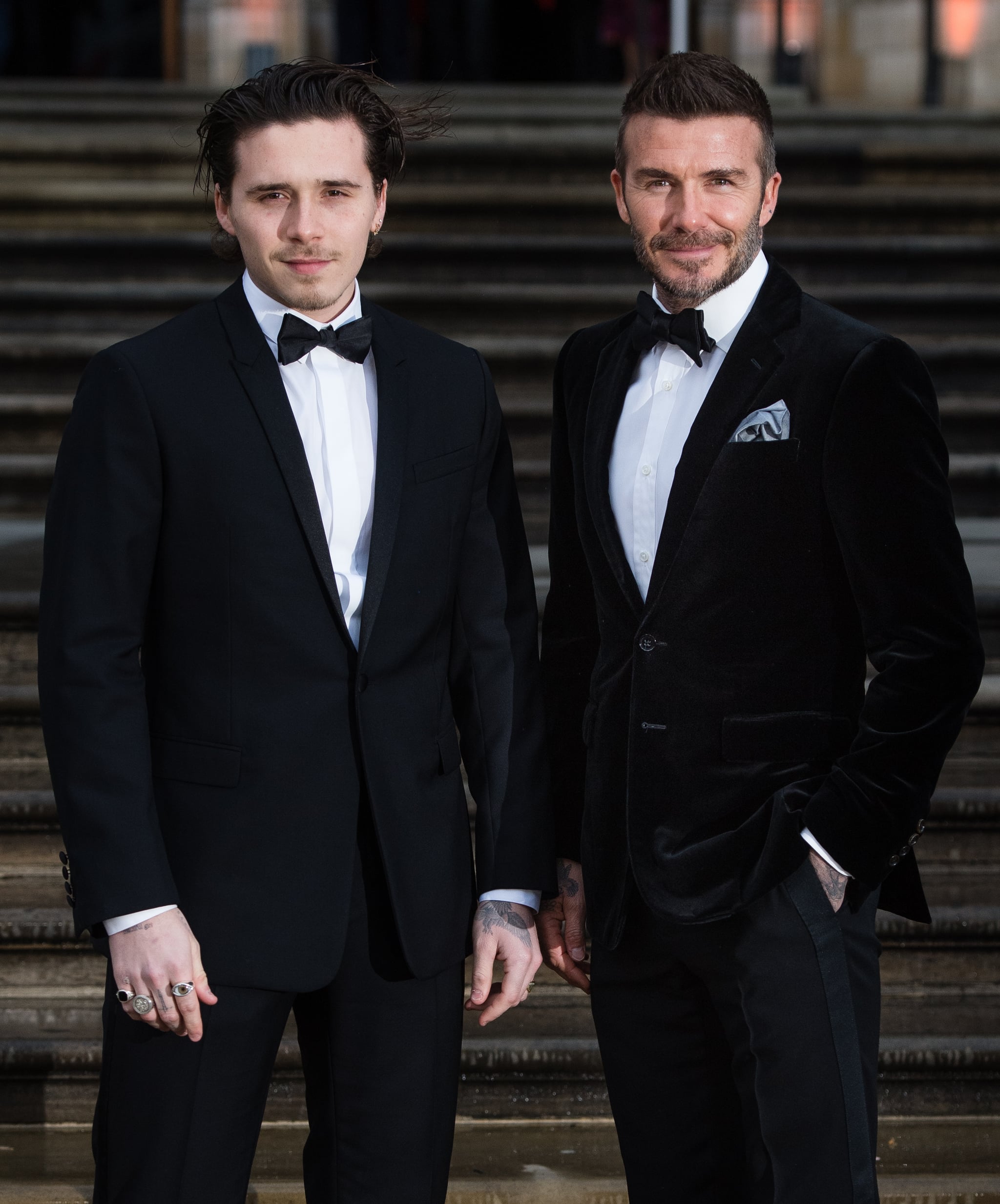 Image Source: Getty / Samir Hussein
Brooklyn Peltz Beckham is in love. This is one thing he's clear about, and ever since getting together with his wife, Nicola Peltz Beckham, in late 2019, he's been open about his devotion to her. Most recently, Brooklyn debuted a new large tattoo of her face on his bicep, and after nearly four years together, it sounds like the sparks are still there.
"I never expected it to be this good," he tells POPSUGAR. "I think marrying your best friend is just one of the most important things that a person can do in their life. Finding the right person changes everything about you. Every day that I'm married, every day gets better. We're best mates, and we just do everything together." His advice for anyone looking for love, he says, is to "find your best friend, get them, and marry them."
At 23 years old, Brooklyn's perspective on love sounds surprisingly levelheaded. Fortunately, he learned a lot of what he knows about love from his dad, David Beckham, who has been married to Victoria Beckham for more than two decades. Before Brooklyn and Nicola's April 2022 wedding, his dad sat him down to share some fatherly advice. "Before I got married, he was just like, 'Look, you found the person that you want to be with. We love her, and we all get along. She's such a sweet person,'" Brooklyn recalls. His father's marriage tips were simple: "Be nice. Treat her the best. Treat her like a queen, and everything will work," he shares.
Brooklyn took his father's words of wisdom to heart. "Number one is make sure your missus is always happy, so that's what I base everything off of," he says. "I always try and make her happy. I do everything to make her happy. That was the advice my dad gave me."
Of course, marital bliss isn't a perpetual state of mind, and he and Nicola are also both very focused on building their own careers. Brooklyn is currently taking part in Silk Nextmilk's new ad campaign, a riff on the classic 1990s "Got Milk" ad blitz designed for a new, more environmentally conscious cohort. "I've always seen the milk videos and the pictures of the people with the milk mustache, and I've always wanted to be able to do that," he says. But Brooklyn also believes in the product, calling it "the best milk I've ever tasted." Brooklyn would know, of course, since he's worked with some of the best chefs around in recent years, from Gordon Ramsay to Nobu's Chef Nobu Matsuhisa.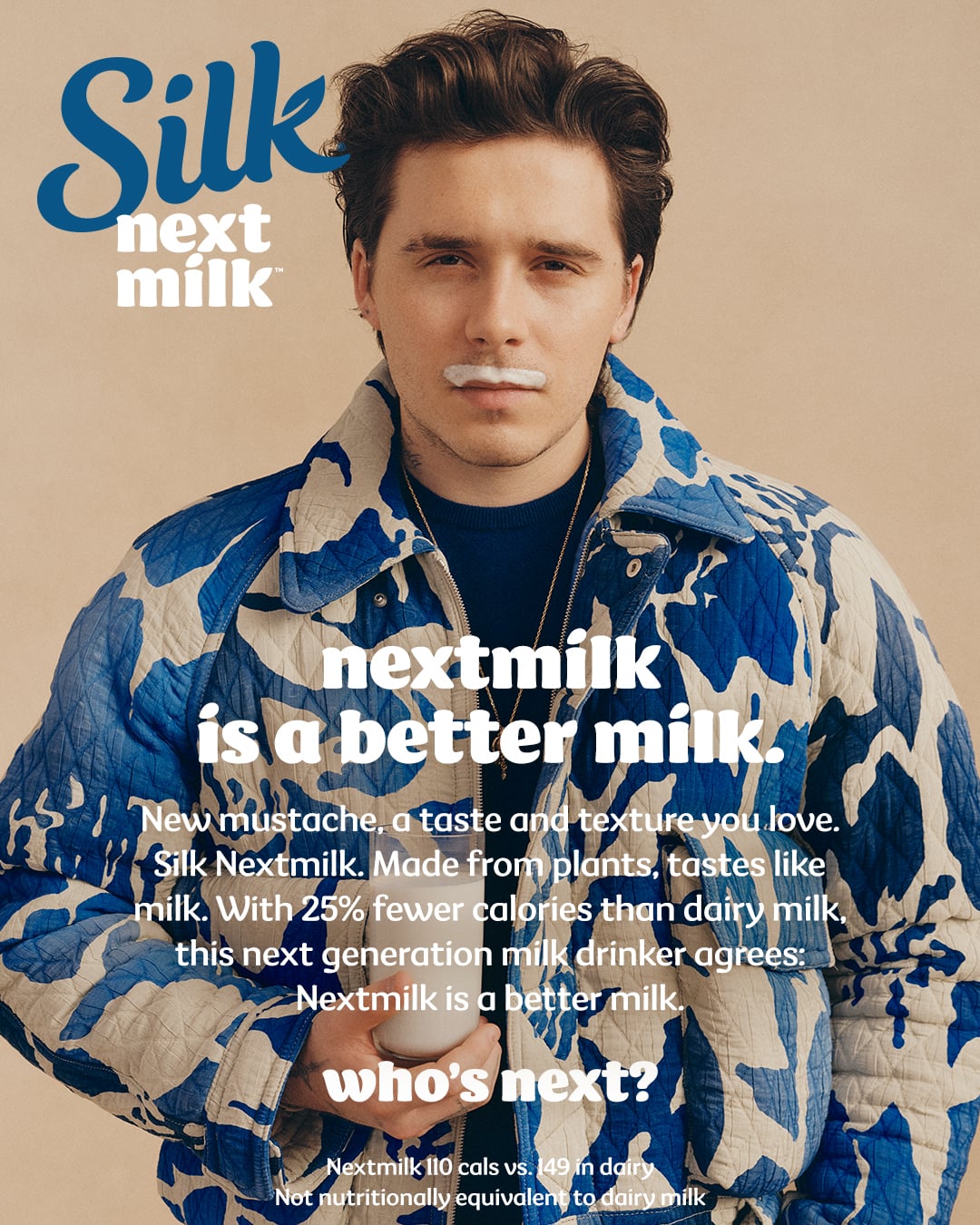 Image Source: Courtesy of Silk
Brooklyn has many new projects in the works, he says, but his ultimate goal is to open a restaurant. "I would love to open up an English pub out here, but a high-end English pub, because I just feel like LA — they do have some good Irish pubs. But something that I grew up with was just the English pub vibe," he says. Meanwhile, Nicola is busy working on her own movie, "Lola James," which she wrote, directed, and starred in, among other projects.
Amid their busy schedules, though, the Peltz Beckhams still find ample time to cozy up together — which, as it turns out, is a source of their close bond. They're gearing up to celebrate their first wedding anniversary in April, but they have "no plans right now," Brooklyn says. Or rather, his current plan is simply to spend the night in the comfort of his own home with his best friend. "I think the reason why me and my wife get along is, our favorite thing to do at nighttime is to be at home with our dogs, have a bottle of wine, and put a TV show on — so maybe something like that," Brooklyn says. "We might go for a little dinner and then probably just come back home, relax, put on a TV show or movie and have a nice bottle of wine. Just enjoy each other's company. It's our favorite thing to do."