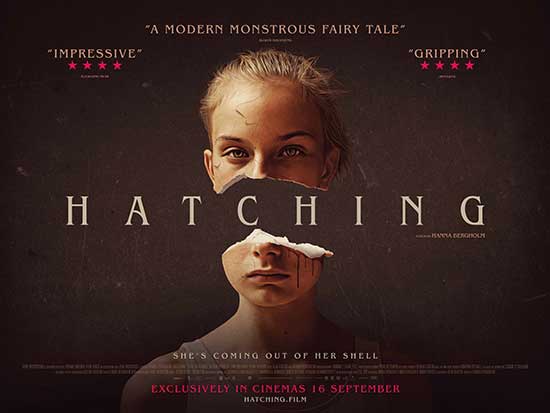 HATCHING WILL BE RELEASED BY PICTUREHOUSE ENTERTAINMENT
IN CINEMAS IN THE UK AND IRELAND ON 16 SEPTEMBER 2022
STILLS AND UK PRODUCTIONS NOTES AVAILABLE HERE
IN CINEMAS IN THE UK & IRELAND 16 SEPTEMBER
Picturehouse Entertainment present Hanna Bergholm's striking debut feature film Hatching, which will be released in cinemas in the UK and Ireland on 16 September 2021.
Hatching premiered at Sundance Film Festival, recently caused a stir at Sundance London and currently holds a 92% fresh rating across Rotten Tomatoes.
In this darkly compelling fable, 12-year-old gymnast, Tinja (Siiri Solalinna), is desperate to please her image-obsessed mother, whose popular blog 'Lovely Everyday Life' presents their family's idyllic existence as manicured suburban perfection. One day, after finding a wounded bird in the woods, Tinja brings its strange egg home, nestles it in her bed, and nurtures it until it hatches. The creature that emerges becomes her closest friend and a living nightmare, plunging Tinja beneath the impeccable veneer of her family and into a twisted reality that her mother refuses to see. Hatching is the terrifying debut feature from Hanna Bergholm, heralding in an exciting new voice in horror.
With memorably outlandish practical effects from the FX teams behind Game of Thrones, Star Wars and The Dark Knight, Hatching is an audacious mix of horror, coming-of-age drama and social media satire and is like nothing you have ever seen before.
About Picturehouse Entertainment
Picturehouse Entertainment is the distribution arm of Picturehouse Cinemas, the owner and operator of 26 Picturehouse Cinemas and programmer for a further 40 UK venues. As champions of distinct cinematic voices and outstanding new feature films, Picturehouse Entertainment is renowned for delivering innovative and award-winning release campaigns from theatrical to home entertainment.
Previous Picturehouse Entertainment releases have encompassed a wide range of films including God's Own Country, The Party, The Wife, Capernaum, Woman at War, Monos and Babyteeth. Recent releases include The Reason I Jump, Deerskin, Wildland, The Nest, Herself, Never Gonna Snow Again, Pirates, Hope, The Souvenir Part II, True Things, Happening, Vortex and Nitram. They have lined up another exciting slate for the year ahead including Hit The Road, The Feast and Hatching. At the 2022 Cannes Film Festival, Picturehouse Entertainment added to their slate with the acquisitions of Boy From Heaven, Broker, Corsage, R.M.N., Mother and Son, Scrapper, Smoking Causes Coughing, The Eight Mountains, The Night of the 12th, Tori and Lokita and War Pony.