"NOPE" ARRIVES ON VUDU TODAY
VUDU RELEASES SIX NEW UNIQUE "NOPE" GIFT CARDS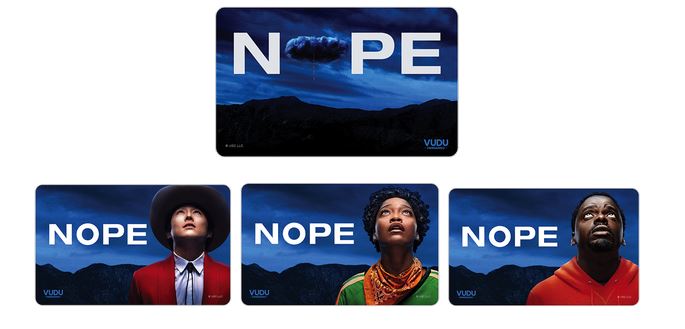 Time to say "YES" to "NOPE" at home! Starting today, Jordan Peele's "Nope" will be available for rent in 4K for $19.99 on Vudu, Fandango's premium on-demand video service. To celebrate the release, Vudu is debuting six unique "Nope" gift cards for fans who want to give the gift of the summer's most original blockbuster. Gift cards include images of the mysterious cloud, plus the five main characters played by Keke Palmer, Daniel Kaluuya, Steven Yeun, Brandon Perea, and Michael Wincott. For more information and to see all the gift cards available, click HERE.
Hoping to host a Jordan Peele-themed movie marathon? Vudu is now offering a sale on Peele's previous horror thrillers, "Get Out" and "Us," now for purchase in 4K for only $19.99 (normally priced at $29.98). Check out the 2-movie collection bundle HERE.
About Vudu
Vudu is the leading video-on-demand streaming service from Fandango offering more than 200,000 titles to rent or buy, including the newest releases, and thousands of titles for free. Serving millions of entertainment fans daily, Vudu has created compelling video entertainment experiences, including the ability to create custom Lists from their movies & TV library, purchase exclusive Mix & Match bundles, access digital copies of their physical films, and much more. Consumers can watch the latest movies & TV shows anytime, anywhere, on their favorite smart TV, over-the-top (OTT) streaming player, Android and iOS device, game console, and Blu-ray player. Streaming or downloaded, Vudu delivers a premium experience with the latest digital video technology, including 4K Ultra High Definition, Dolby Vision, HDR, and Dolby Atmos Cinema Sound.