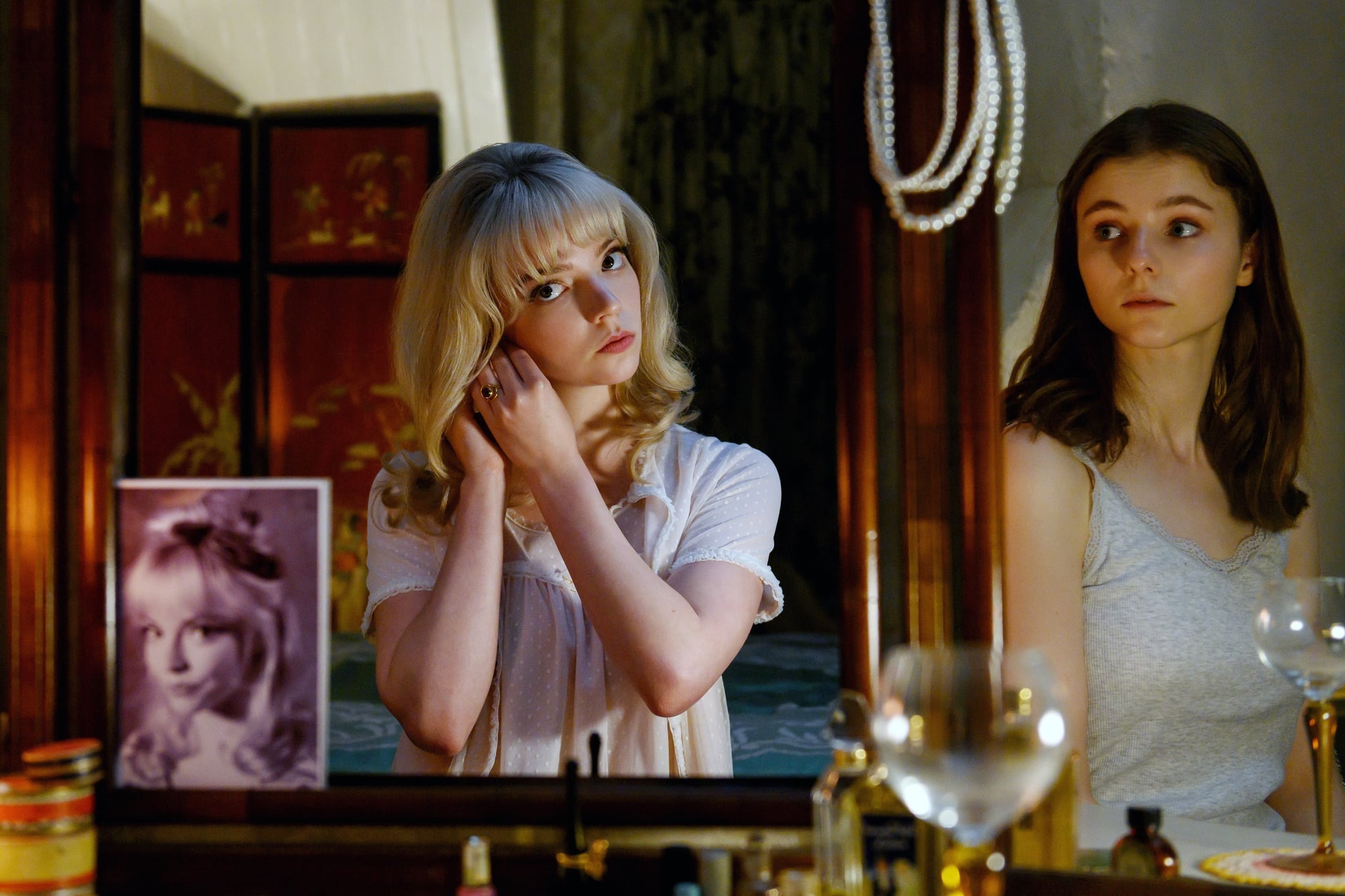 Image Source: Everett Collection
Last Night in Soho (2021), starring Anya Taylor-Joy and Matt Smith, is finally here, and it's definitely living up to the hype. The suspenseful horror film follows a country girl with a sixth sense named Ellie (Thomasin McKenzie), who moves to London to attend fashion design school only to be sucked into the 1960s through visions of a mysterious and beautiful lounge singer. The movie's ending left viewers with some questions, and I've got answers for you.
When Ellie decides to move out of her school dormitory, she rents a room in Soho from an older woman, Miss Collins (Diana Rigg). The first night Ellie stays at her new place, she experiences a vivid dream of a blonde woman named Sandie (Anya Taylor-Joy) living in the 1960s. For several nights, she dreams about the apparent glamour of the strong, beautiful, confident singer's life as she pursues her dreams of becoming a famous lounge singer. Sandie (in Ellie's visions) soon meets a young man named Jack, who claims he can get her on stage. He fulfills that promise, but hides the sinister truth that he plans to pimp her out to other men. Believing Jack killed Sandie, Ellie goes on a mission to find Jack and avenge her, and this is the point where things start to get twisty.
Wait… Sandie's Not Dead?!
After being terrorized by visions of the past and ghosts of Sandie, Jack, and the men who took advantage of Sandie through Jack, Ellie decides to leave London. She goes to Miss Collins, who sits her down and forces her to drink some tea. Only once Ellie sips the tea does Miss Collins reveal the truth about the woman who died in the bedroom she rented out. Sandie, she explains, died in that room 100 times over. Every time a man came to her, she died a little more until there was no Sandie left, only Alexandria Collins. When her passion and love of life died, Sandie wasn't Sandie anymore. Miss Collins confirms that Ellie has been witnessing the events of her past, not the life of a ghost.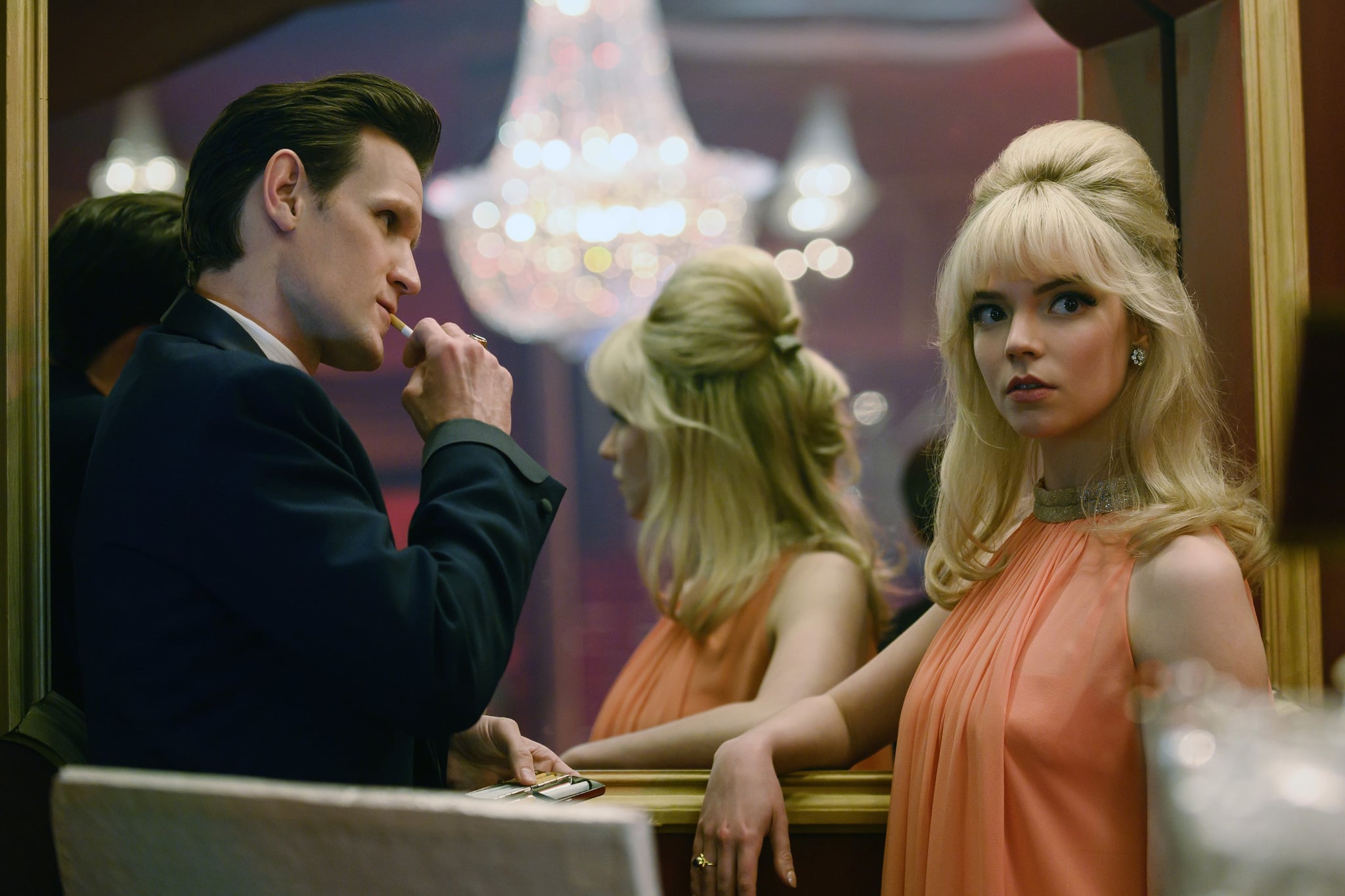 Image Source: Everett Collection
Why Did Sandie Kill Jack and the Other Men?
Miss Collins confesses that she killed Jack in Ellie's room because he was the reason for her suffering and the man who destroyed her life. Eventually, her hatred and resentment toward him for all his wrongdoings led her to stab him repeatedly. One hundred times, she says. After Jack, she killed every other man who came looking to take advantage of her, believing they deserved to die for what kind of men they were and that she was doing the world a favor.
Why Did Miss Collins Try to Kill Ellie and Then Change Her Mind?
Miss Collins tells Ellie all about her past because she's poisoned her tea and plans on telling everyone she killed herself. Ellie unknowingly discovered a lifetime of Miss Collins's crimes while trying to avenge Sandie's death, so having police snoop around the home where she's hidden the bodies of her victims isn't ideal. Letting everyone believe Ellie is delusional solves her problem.
But Ellie's not going down without a fight. She and Miss Collins have an altercation that overturns an ashtray with a lit cigarette and causes a fire. Before you know it, first responders are knocking down the door. Hearing the sirens, Miss Collins murmurs something about refusing to go to prison because her entire life has been a prison, and she attempts to kill herself. Ellie stops her, begging her not to. Miss Collins says she never wanted any of this horror to happen, and Ellie responds with a soft, "I know."
Despite trying to kill her, Ellie still shows compassion for the woman who has been terrorizing her all evening. In seeing Ellie's empathy and understanding, Miss Collins has a change of heart and tells her to save herself. It's too late for her, but it's not too late for Ellie.
Why Does Ellie Still See Sandie at the End?
The film's closing scene finds Ellie attending her college fashion show. Her designs are based on her dreams of Sandie, a representation of acceptance and growth. The film ends with Ellie looking in a mirror backstage. She first sees her mother smiling at her, but as she fades away, a young Sandie appears. She's wearing the same pink, flowy dress she wore when Ellie first saw her. She waves and winks at Ellie.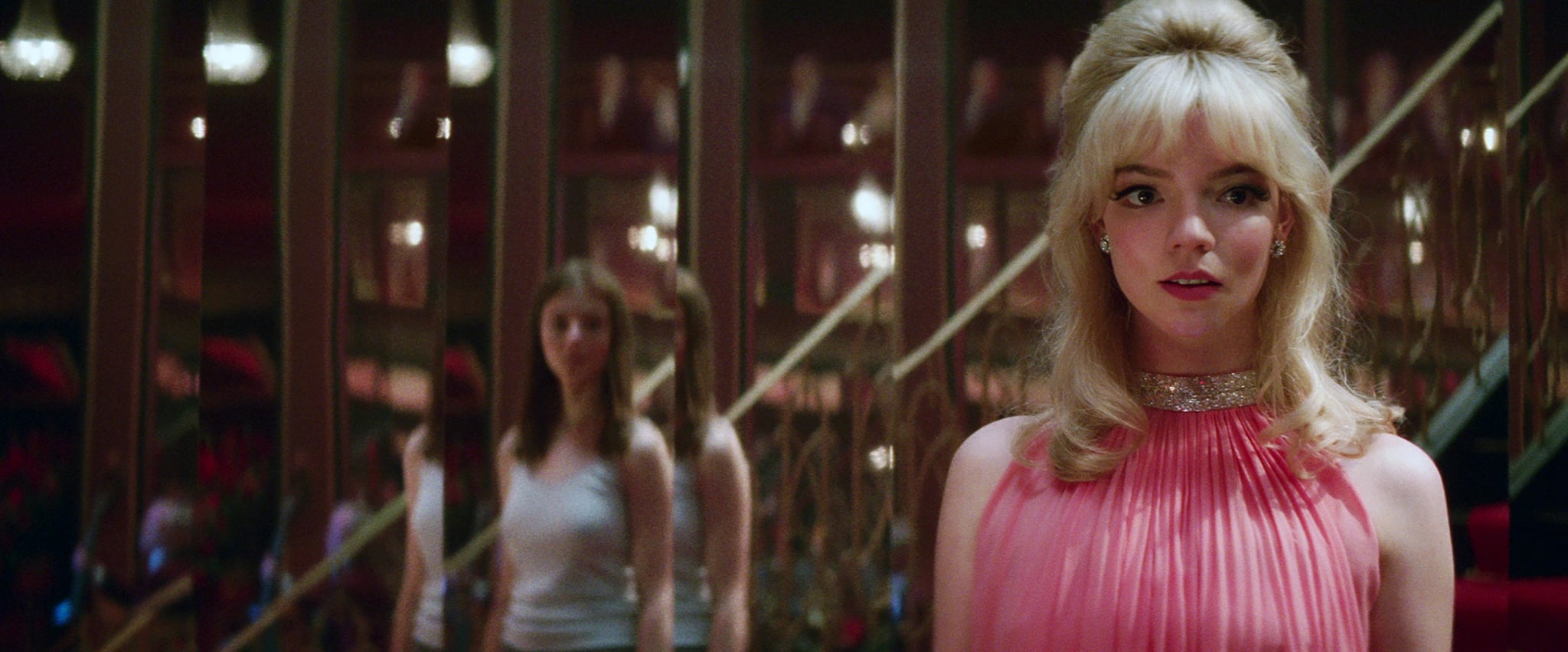 Image Source: Everett Collection
Because Ellie has always seen her mother, we are led to believe that the people who touch Ellie's life stay with her. The people she loves, the people she misses, and the people who shaped her into the woman she is don't leave. Sandie, despite all the crimes she committed, still had a positive impact on Ellie. She taught her about the horrors of the real world and inspired her to be braver, stronger, and more confident.
The best parts of Sandie live on through Ellie, and for that reason, Sandie will always be with her; Sandie, the woman she was before so many men hurt her and killed her spirit, not Miss Collins.