The reason crime fiction is so popular is that it gives you the opportunity to view the world in so many different ways – with an intriguing crime of some sort or another at the centre of things. Our new books column this week reflects that, beginning with a debut by Jane Jesmond where the central character is an adrenaline junkie. Literally. Zoë Sharp is back with a dead-not-dead thriller, and there's a bit of un-neighbourly noir with Natasha Boydell's The Woman Next Door. We have non fiction too, with fellow crime fiction lover Steve J Haywood taking a grand tour of Britain and we cap things off nicely with a new niche novel called Trashlands, which is billed as apocalypse noir.
A varies selection as always, but which will you choose? Let us know your thoughts in the comments below.
On the Edge by Jane Jesmond
A thrill seeking free-climber is the protagonist in Jane Jesmond's debut novel On the Edge, the first in a series that's out on October 26. Jen Shaw is an adrenaline junkie who left the excitement behind after someone close to her got hurt. She put it all behind her, even checked into rehab. So how does she find herself drugged and hanging off the local lighthouse in the middle of a raging storm? She only arrived back at her family's Cornwall home yesterday – what could possibly have gone wrong? As Jen digs deep into fragmented memories, she begins to piece together a frightening truth.
Pre-order now on Amazon
The Last Time She Died by Zoë Sharp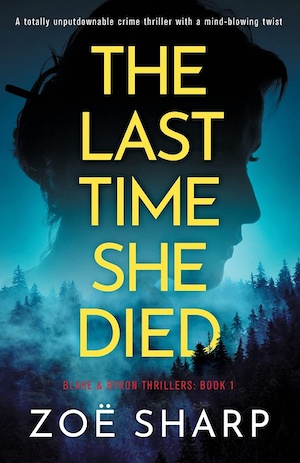 Blake disappeared when she was 15. No one reported her missing – her Dad said she'd come back soon. Now, 10 years later, her father is dead and Blake has returned for his funeral. But it can't be Blake – because she is dead, isn't she? Her stepmother accepts the young woman into her home and Blake spends time with her father's new family and her old friends. But Detective John Byron has his doubts. Where was Blake in the last 10 years? Why do those who should be delighted by her return look at her with fear in their eyes? And who has just tried to shoot her?!? Out October 20.
Pre-order now on Amazon
The Woman Next Door by Natasha Boydell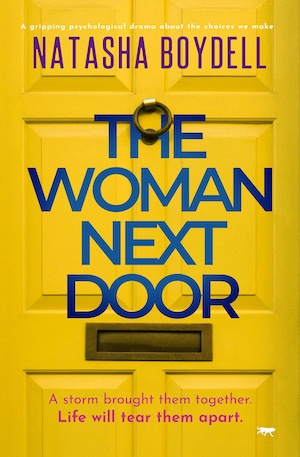 Keeping up with the Joneses can be an expensive but pretty harmless occupation for most neighbours. Not so for Sophie and Angie in Natasha Boydell's new release, the Woman Next Door, out now. Is the grass always greener on the other side of the garden fence? When a storm throws the two women together, they are forced to face some uncomfortable truths. Angie's success makes Sophie consider whether she really is as satisfied as she makes out. And Sophie's uncomplicated marriage forces Angie to look at her own and accept that it's not as perfect as it seems. Both women vow to change – but be careful what you wish for, particularly in crime fiction land.
Buy now on Amazon
The Crime Fiction Tour of Britain by Steve J Haywood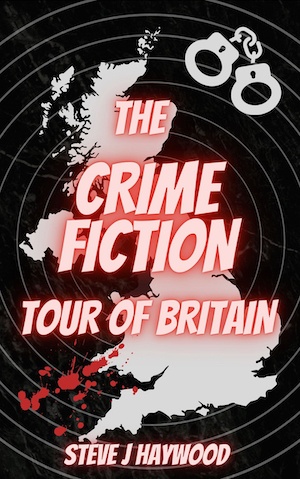 We've all been stuck at home for far too long. Time to get out and about and see the UK – from the comfort of your reading chair! And what a journey it will be, guided by Steve J Haywood and exploring the best of crime, mystery and detective fiction set in England, Scotland, Wales and Northern Ireland. This book features the work of more than 100 authors, and has sections on Golden Age classic crime fiction, contemporary crime fiction, historical mysteries and children's and young adults crime and mystery novels. The Crime Fiction Tour of Britain is out now, and is free until 16 Oct on Amazon.
Buy now on Amazon
Trashlands by Alison Stine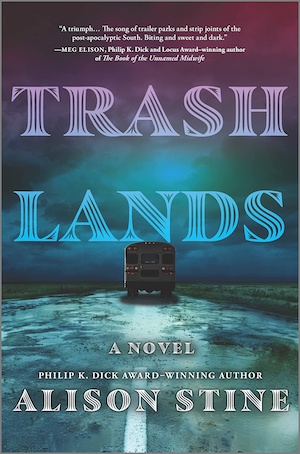 Ready for some apocalypse noir? We have just the thing… Sometime in the future, in a flooded and desolate world where the manufacture of new plastics is banned, rubbish has become a valuable commodity. Appalachia has transformed into a huge junkyard and it is here that Coral plies her trade. She is a 'plucker', pulling plastic from the rivers and woods of Trashlands, a dump named for the strip club at its edge, where local women dance for an endless loop of strangers and the violent owner rules as unofficial mayor. Coral dreams of rescuing her child from the forced labour of the recycling factories, but it seems impossible – until she meets a reporter newly arrived from the coast. Trashlands by Alison Stine is out on October 26.
Pre-order now on Amazon
Click here to read about last week's new books.