The humble fringe: the simple yet effective snip capable of turning your 'do from drab to fab – as long as you get it right.
I actually decided to have a full, blunt fringe cut in at the tender age of 14 and haven't looked back since. If you are a fellow fringer, you will get it when I say it's become part of who I am and my beauty identity.
A fringe can transform your look without drastically removing the inches you've committed to growing, but essentially, it is a style investment so does need some dedicated TLC. Anyone who tells you a fringe is 'low-maintenance' or 'effortless' is, well, lying to you but armed with a few fringe care hacks and expert advice, it can totally elevate your look.
Here, I'm sharing the top fringe hacks I think everyone should be armed with, as well as some expert advice from Matthew Tharp, Art Director at The Lounge Soho, and influencer Megan Ellaby, so you can take the chop with confidence.
My 5 top maintenance tips for a fresh fringe

1. From wet to dry
A fringe dries a lot quicker than you think so as soon as you hop out of the shower, get your blow-dry game on, which allows you to set your fringe in place. A tool I would no longer be without is the Revlon Pro Collection One Step Dryer & Volumiser. This 2 in 1, hairdryer meets round brush will smooth your fringe, and with Ionic Technology and a ceramic coating, it leaves you with a brilliant shiny bounce in a matter of seconds. Priced at £59.99, this is an absolute steal for a salon-worthy blow-dry. Pair this with the Proclere Infatreat Intense 10 Leave In Spray, which is keratin-enriched with ten nourishing and protecting benefits. It is perfect as a dedicated blow-dry spritz by reducing the need to use multiple finishing products, so you can say hello to a happy, healthy fringe in no time.
2. Fast freebies
Many salons offer a complimentary fringe trim, with Headmasters being industry leader. Call your local salon and politely ask for their free fringe trim service as you can normally get one on the day. The stylist will tend to ask for a suggested donation of £1 for their nominated charity. Toni & Guy and The Lounge Soho also do a great offer with complimentary fringe trims in-between regular haircuts.
Sharing his top pre-snip hacks, Matthew Tharp said: "Never go for a fringe trim for a full fringe having parted it in the centre all day, or with many days' old unwashed hair. And never insist that your fringe is cut with your hair tied up, there will always be pieces missed, and this will effectively ruin your whole style until your next cut."
3. Protection, Protection, Protection
The fringe is a fragile being so treat it exactly how you would with the bulk of your hair. It is far more prone to drying out and experiencing harsher damage from heat tools and the elements. Spritz your chosen heat protection spray into your palms alongside a pump of hair oil – L'Oréal Elvive Extraordinary Oil is a great choice, mix together and run your hands through the lengths of your hair, ensuring the mid and ends of your fringe is included in the massage with a smaller remainder of the product. Oil is also a top choice post blow-dry, as running a small amount through gives shine to a once lacklustre fringe. As Matthew suggests, styling cream is key product with the Kérastase Resistance Ciment Thermique being a great option.
4. Keeping it clean
Maybe you can last 40 days and 40 nights without washing your hair, but your new fringe life won't quite allow for this crazy behaviour. You will now find yourself awkwardly contorted over your bathroom sink, head down, eyes crunched, washing your fringe with a minuscule blob of shampoo (all worth it, I promise). Your fringe is essentially an extension of your face and should be treated just so. If you're not planning a full hair wash, when washing your face in the morning, include your fringe in the scrub down. Dry shampoo is also a hair hero as a few spritzes on the root will freshen it up and absorb the excess oil a fringe tends to inhabit. It'll also give it a nice amount of volume so it doesn't appear stuck to your forehead with a glue stick – not cute. Moroccanoil Dry Shampoo is a strong choice with its lightweight formula and built-in UV protection. It smells divine with the brand's renowned scent, as well as a choice of dark and light tones, making it a good all-rounder.
5. Tools of the trade
Having a fringe means being picky with your styling tools as anyone with a fringe fears the fry. Styling with a flat iron every day can lead to heat damage that is tricky to resurrect, so invest in a good hairdryer with a cool setting, a round brush and velcro rollers. If you do use straighteners, it may be worth your while picking up a pair with mini plates like the Cloud Nine Micro Hair Straightener which are perfect for precision styling and have a maximum temperature of 150°C so won't cause unwanted frazzle. Another essential in your kit is a lightweight heat protection spray such as the ghd Heat Protect Spray, providing an invisible barrier against everyday heat damage and leaving your hair with a lightweight 'no product' feel that is perfect for fringe styling. Finish off with a good quality hairspray like the L'Oreal Elnett Flexible Hold Hairspray to keep your style natural minus the stickiness.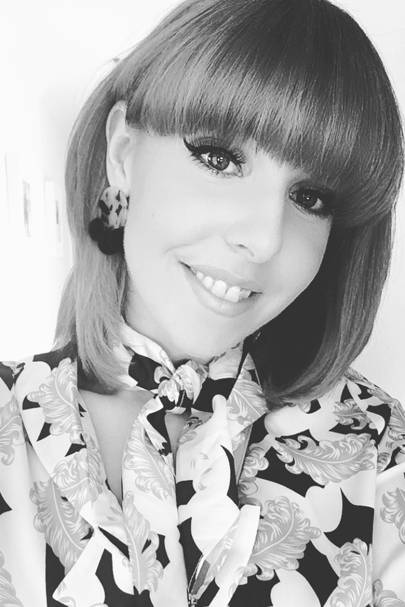 The expert hacks

Matthew Tharp, Art Director at The Lounge Soho (who you can trust to cut a mega fringe and offer free trims in between regular haircuts, FYI), is expertly equipped with styling advice, saying: "Depending on whether you decide to rock a smooth fringe, or if you are more daring and want a textured or curly fringe, will denote your choice of product.
"Straighter/heavier fringes will always benefit from something like a blow-dry spray with a light mousse. This will help give the fringe substance and be less flimsy, whilst keeping it in place and well behaved all day. Something that helps block moisture would be handy also for that super-preened look.
"If you're thinking texture or curl, sea salt sprays or curl creams will give definition, and give a more undone and relaxed look, which should also be reflected in the styling of the haircut too. Hairspray is an oldie but good product for fixing a fringe and having the re-assurance it's still looking in place from AM to PM."
Megan Ellaby's top fringe hacks

Alongside her nostalgically eclectic wardrobe, the style guru certainly isn't shy of a hairdo transformation. Megan has fronted campaigns for Schwarzkopf and L'Oréal Elvive, all the while rocking her signature choppy fringe. Sharing her tips and tricks, Megan explains, "My fringe and I go way back, and we'll probably be together for the rest of my life. My fringe has become a safety blanket and something that really makes me, me, so it's safe to say that over the years I've learnt how to make it work.
"I have a choppy fringe, which means I have the option to have a full fringe or a parted, more undone look. This was a game-changer from my hairdresser as it means I have more than one look to go to depending on my vibe that day. No matter if my hair needs washing or not before styling, I'll always wet it with a spray bottle or under the tap to undo any bed hair or styling from the previous day.
"It's then important to blow dry with a flat brush from side to side to ensure that all the strands are in the correct place, before adding a touch of height with either straighteners or a round barrel brush and a hairdryer. Finishing with hair spray, the Bumble and Bumble Thickening DrySpun Texture Spray adds that texturised, 'I woke up like this' look".
"Once you are primed with all the Birkin and Bardot appeal, the first step to a successful snip is who you choose to do the deed. Cutting in a fringe of any form isn't a decision to make lightly, so research stylists with strong fringe portfolio. A hairdresser should be considering your hair type and face shape, so before you ask, should I cut my own fringe, your answer is absolutely not. Drop the scissors please, crooked curtains are not a look."
Looking for some fringe inspo? These are our fave fringes.