We see the world 'wellness' thrown around absolutely everywhere these days. It's plastered above the porridge you purchase at Pret, it's bandied around whatever the latest gym fad you're trying on class pass and it's behind every self-care advert for a sheet mask. I'm all for the concept of being well, especially after a health dip at the beginning of the year, but at the Borgo Egnazia, they're tapping into a different word for wellness that just might make your anxiety halt for one hot minute – happiness.
Happiness and wellbeing are deeply interlinked, mutually beneficial and possibly the most important things we can focus on in such fraught times. At the Borgo Egnazia, a five star resort nestled in the secluded Puglian coastal countryside in Italy, they have devised a program centred around the principles of happiness and how it can make us live longer. The conceptual Happiness Break at the Vair Spa boasts a three day regenerating agenda of customised experiences to improve openness and relationships, helping us to fulfil potential. I was lucky enough to be invited to experience the program for myself and, as one of the key principles of happiness is founded on the relationships we build with others, my best friend and flatmate was glad to take part with me.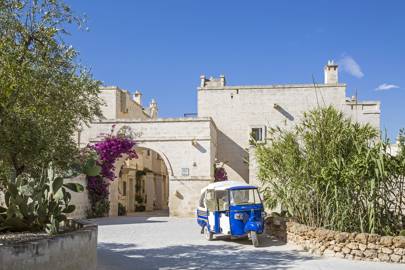 Warmly welcomed by the team upon arrival, complimentary glasses of cooling lemon water in-hand, we were given a full tour of the hotel grounds. I almost want to put hotel in inverted commas, here, because that's not at all the feel you get from the Borgo. Purposefully designed to emulate Puglian towns, architecturally akin to the streets of postcard-perfect Polignano, the majority of the rooms at Borgo Egnazia are housed in individually set back casettas, and one can – very easily – get lost meandering through the winding alleyways, plant-strewn 'streets' and glorious archways, and forget they're in a resort at all. Boasting four pools (one specifically designated to children), as many eateries, copious spacious private villas and an award-winning spa, it's the very pinnacle of hospitality. The pristine white stone and the minimalist, contemporary interiors give a clean and crisp atmosphere that extends throughout the faux-village and the main hotel building. With piles of green apples and pine cones, copious candles and the elegant, staircase-framed 'Tree Of Life', the restful mood of the interiors had me audibly exhaling – the detox had already begun.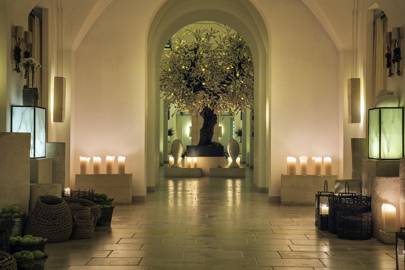 I sat down with Director of Wellbeing, Erica D'Angelo, and three members of the Vair Spa team for my initial consultancy in a room decorated with fragrant rosemary and, having filled out a happiness questionnaire prior to my arrival, the team gave me a sense of already knowing what areas were key for improving my mental and physical wellbeing. It was here I learned about the concept of 'Blue Zones' – designated areas around the globe where inhabitants supposedly experience greater longevity of life due to a combination of lifestyle choices. The concept was developed by author, Emmy Award-winning producer and National Geographic Fellow Dan Buettner, and Erica is the first internationally certified Blue Zone Manager for her work in developing the Happiness Break.
The Vair Spa team took any and all of my health and fitness concerns into account, assuring me confidently that the program was bespoke and accommodating, involving 7(!) treatments at the Vair Spa, as well as daily fitness classes to enjoy alongside my partner. I was told to expect a few surprises along the way, and that the team would be seeing me regularly – a promise they began delivering on right away.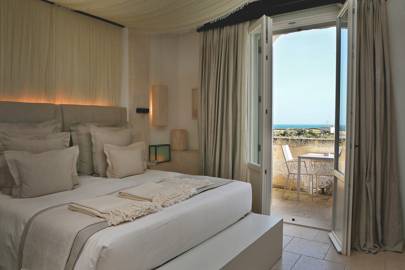 After my initial consultation, Manuela took me for a blind olfactory Luca Fortuna sense test, tempting me with different essential oils and talking through what they symbolised to me, and how they made me feel. Based on neuroscientific studies, the disciplines of psychology and aromatherapy are joined to map your receptiveness to resistance, resilience, opportunities and activities based on reactions to certain essence's smells. Manuela noted my negative and positive responses to different fragrances and what memories they surfaced, assuring me that by the end of my stay my results would change.
A final and confirmed schedule based on these initial meetings was delivered to our room during dinner, detailing more vividly the activities we'd be partaking in, recommended dishes for each meal throughout my stay and what treatments I'd be lucky enough to receive.
The next day, I descended the stone steps – perfectly accented with coves filled with woven baskets and inviting flames – for the first of my full Vair Spa experiences; a two-hour stint in the Roman Thermal Baths. Opening up into a series of candle-lit chambers, the hidden depths of the spa were spacious and inviting, with a large thermal bath populated with powerful jacuzzi pumps to stimulate muscle relaxation. We moved from room to room in pamper session peppered with different treatments, spending ten minutes in a 30 degree pool scented with oranges, having quick frozen showers to stimulate our immune system and salt scrubs, floatation tanks, mud wraps and foot massages from the lovely Annalisa in between. The perfect post-flight introduction to a spa weekend, we felt our blood circulation recalibrate and began to relax away from reality almost immediately.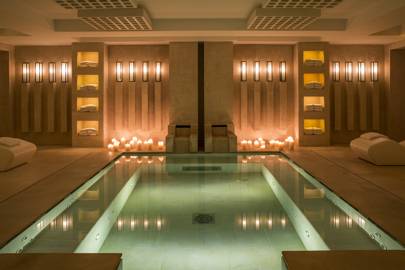 The community spirit of the Vair Spa team is perhaps what makes the entire retreat so personalised and like nowhere else. Each of my massages and treatments was conducted by the same, caring figure Rosalina, whose soothing voice I became so comfortable and familiar around that when the time came round for my last massage (admittedly an indulgent two hours in length) I felt myself floating off into a light snooze, completely at ease with my company and location. Throughout many of my treatments, there were pauses where aromatic stimuli suddenly filled the air and even, during my salt scrub, a moment when fresh oranges were squeezed all over me. Though somewhat aware it was likely to do with my olfactory test, I completely surrendered to the resounding feelings of relaxation and found it didn't detract at all from my experience.
Our first fitness class was a 9am start, outside. A walking aerobics tour with personal trainer Francesca in glorious sunshine amongst fresh dew, as I sidestepped across the perfectly manicured golf course, sprinted backwards along the picturesque coastline and did lunges across the extensive hotel garden it also served as a tour of the hotel's full grounds and nearby sister property – the stylishly quaint Masseria Cimino, that houses just 14 rooms. The fitness elements of the itinerary were all based around the Blue Zone concept of 'movement', and thankfully not too taxing. From a deep yin yoga class to a playful 'together' exercise hour spent on a sunny rooftop, there were small surprises along the way, but nothing was too intense that it broke through our renewed sense of calm and tranquility.
A way of getting back in touch with the earth and our environment, on our third day we were greeted by the Vair Spa team – none other than Manuela, Rosalina and Annalisa – to hop on a Borgo bike and cycle down to the hotel vegetable gardens. Here we discovered all about the organic, home-sourced Puglian ingredients that fuelled our fine dining, and helped the gardener Arianna to harvest. Learning the correct method for carefully plucking sweet peppers from their branches, and getting our hands amongst the soil to grapple with engorged white aubergines was a way of getting back to nature and connecting to the earth that city dwellers rarely experience. My miniature herb garden has a lot to answer for. I was so enthusiastic that I was soon sweating with the effort of toiling in the sun, and we stopped for a fresh slice of sweet melon to celebrate our efforts. Cycling back with bundles of red chilli peppers perched proudly in our bike baskets, I felt so much better for a 'natural movement' workout that I was perfectly comfortable indulging a little more at dinner that evening…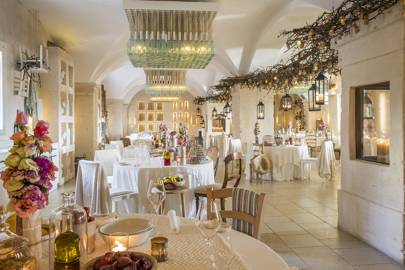 The culinary offerings at Borgo Egnazia are multi-faceted and varied, from their stone-baked pizza and pasta options at Mia Cucina to the trattoria La Frasca breakfast banquet of local delicacies including cheeses, cakes and fruits. Carefully balancing and enhancing the subtle flavours of the freshly caught seafood, there's also Cala Masciola just a short golf cart ride away, right at the edge of the sea, where the tranquil sounds of the waves will lull you into a state of ultimate relaxation as you not-so-eloquently stuff your face with freshly-caught delights such as scorpionfish, langoustine, snapper and more.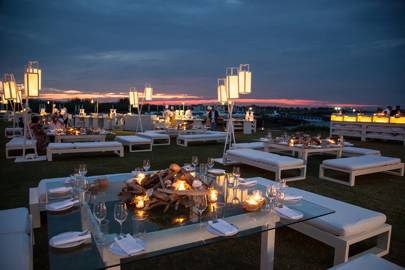 The highlight of the sublime dining options is, indubitably, michelin-starred Due Camini. A faultless tasting menu tour of the region, the chef-led journey through a modernised interpretation of authentic Apulian cuisine was exquisite both in taste and setting – but simultaneously approachable; the perfect juxtaposition of luxury and tradition. Drink pairings like a beetroot cocktail elevated the succulent mediterranean lamb plate, and I'm still dreaming of the lemon mayonnaise that accompanied the turbot. The lunch menus at Il Porticato consisted of sushi, salads and fresh, fragrant vegetables and oils at your fingertips as well as – you guessed it – pasta options from swordfish and capers to al dente orrechiette with rich tomato sauces. I had recommendations from the team based on healthy circadian nutrition to err on the side of caution with smaller first plates and salads, but couldn't resist the temptation of the taralli and other local delicacies. Ah well, balance.
Each of the restaurants was overwhelmingly accommodating when faced with my companion's list of allergies. Before each meal we were advised on menu items she could and couldn't order, as well as customisable options available. The staff everywhere, from the lounge bar to the breakfast buffets, knew who we were and what our requirements would be, a personal touch that helped us feel completely at ease in their culinary competency.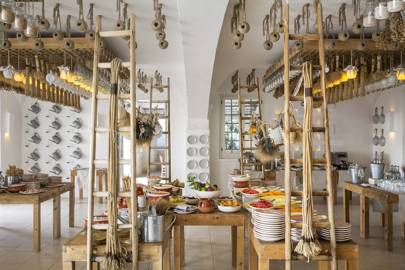 By the time the fourth and final day rolled around, I was already reflecting on how much my attitude had changed since arrival. While I won't spoil all the secret surprises of the program, I will say that after an hour of completing the 'Art of Laughter' class with U Scem The Silly in a mirrored yoga/ballet studio, makeup-less, suncreamed up and with wild curly hair let loose, there was simply no choice but to stop taking myself seriously, and to feel more comfortable in my own skin. If you're the kind of person (it's okay to admit, it's a British thing) who finds this kind of thing a little too awkward, you might be tempted as I was to ask to skip it. However, in surrendering myself to a space of no inhibitions for a mere hour, I walked out of the studio a little less uptight, a little looser, and with some hilarious anecdotes to take home.
Following my final massage on the last day of the trip, I had a closing olfactory check-in with Manuela. I was shocked to find that my responses to each of the scents had changed drastically; I was much more open and receptive to each of the aromatherapies, and was provided with a gift of creating my own remedy of salts and orange fragrance to take my sensory journey home with me. I ascended the stairs of the spa to find the entire team assembled to say goodbye to me in the Vair Spa reception.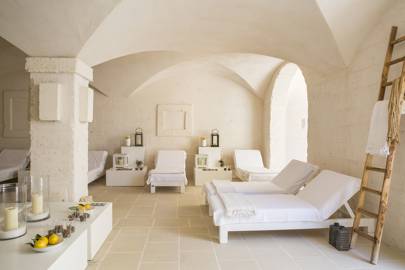 Overwhelmed, embracing everyone individually, I suddenly realised that I was absolutely beaming. In just a few short days, by being playful, eating well and allowing myself to fully embrace the program's opportunities, the customised stimulus of the Happiness Break program had me grinning like a Cheshire cat. I truly had an unparalleled and extraordinary experience, and left feeling emotionally, spiritually and physically stronger, with a more positive outlook and attitude than I'd had in months. For me, happiness is now even more about being open-minded to opportunities and experiences, and this trip is certainly an inspiring journey I couldn't recommend more highly. The Borgo Egnazia provided me with a 'hard reset' button I didn't even realise I needed, bringing me back to base and giving me space to remember how to find and foster joy and happiness in all aspects of life.
Vair Spa's 3-night Happiness Break at Borgo Egnazia is available from €1,850 per person on a full board basis, based on two people sharing a room. The price also includes two consultations, four fitness classes, one 'Art of Laughter' lab, seven spa treatments and return airport transfers.
For more information visit vairspa.borgoegnazia.it/happy