A lot can happen in five years.
Newborns become kindergartners, college degrees are (usually) completed and, sometimes, presidents have come and gone. But no one has proven just how many life changes can be squeezed into one-half of a decade than Taylor Swift. It's been five years since the superstar completed her transition from country-pop wunderkind to full-on pop princess with the release of her game-changing fifth studio album, 1989. And in the ensuing years since she gifted the world "Shake It Off," "Blank Space," and the girl squad-celebrating, Katy Perry feud-inspired moment that was "Bad Blood," oh so much has gone down.
From the re-invigoration of some feuds to the quashing of others, a few high-profile relationships that just might've led to the one to (finally) finding a voice for activism–not to mention the laundry list of accolades and achievements–when Taylor, who's steadily approaching her 30th birthday this December, looks back on the back-half of this particular decade in her life, she'll likely recognize it as the span of years that a girl officially became a woman.
While it's no secret that Taylor has made confessional lyrics her bread-and-butter, these last five years have painted the picture of a woman who has found her voice outside of the recording studio and off the stage, as well, and isn't afraid to use it. Whether she was taking on the streaming services like Spotify and Apple Music, forcing them to change the ways they compensated artists before she would release her highly sought-after catalog to stream, as she did in late 2014 and 2015, taking radio DJ David Mueller to court in 2017 in a sexual assault counter-suit after he dared to sue her for damages for his loss of employment after she complained to his bosses that he'd groped her four years prior and ultimately winning a symbolic $1, or, after taking much heat for her silence during the heated 2016 presidential election, endorsing candidates for the first time ahead of the 2018 midterm elections, the Taylor heading into the 2020 election is a much different one, unafraid to speak her mind and fight on behalf of causes she believes in and communities she supports. For proof, look no further than the way she used recent single "You Need to Calm Down" to encourage the Senate to pass the Equality Act.
She's also proven that she's not afraid to stand up for herself, either. The Mueller lawsuit aside, she also found herself embroiled in perhaps the greatest media scrutiny of her career courtesy of Kanye West, Kim Kardashian and a narrative that, at this point, we'd all very much like to be excluded from. After being branded a snake for supposedly feigning shock over lyrics in Kanye's track "Famous" that name-checked her after she approved them–she maintained that she never OK'd him calling her a "bitch," an assertion Kanye and Kim couldn't disprove with the secretly-recorded audio Kim released–she wrote a whole album about it and brought out a 63-foot inflatable cobra named Karyn on stage every night on tour. When Reputation was released on November 10, 2017, it made her the first act in the United States to have four albums sell over one million units in one week. That's what we call a checkmate. 
The release of Reputation also saw Taylor fulfill her 12-year contract with Scott Borchetta's Big Machine Records and exactly a year later, she signed a landmark deal with Universal Music Group that not only gave her ownership over her master recordings, but allowed for her to do something that would benefit thousands of other musicians as well. "As part of my new contract with Universal Music Group, I asked that any sale of their Spotify shares result in a distribution of money to their artist, non-recoupable," she wrote in an Instagram post. "They have generously agreed to this, at what they believe will be much better terms than paid out previously by other major labels." She added that the provision "meant more to me than any other deal point" and was a sign that "we are headed toward positive change for creators — a goal I'm never going to stop trying to help achieve, in whatever ways I can." We love a magnanimous queen.
While Taylor's new deal at Universal Music Group, under which her latest album Lover was released via subsidiary Republic Records, meant that she would own her masters going forward, unfortunately, the rights to her first six albums remained Big Machine's. And when Borchetta sold the company to famed music manager Scooter Braun, who repped Kanye during the whole "Famous" debacle, in June, Taylor was, well, less than thrilled. In a lengthy Tumblr post, she admitted that she learned of the sale of her life's work to a man she labeled an "incessant, manipulative bully" through the press and accused Borchetta of betraying her. "Essentially, my musical legacy is about to lie in the hands of someone who tried to dismantle it," she wrote. "Never in my worst nightmares did I imagine the buyer would be Scooter." While both men have presented their own sides to the story that conflict with Taylor's, she's maintained her version of events and even vowed to rerecord all six albums next year so as to devalue the originals and give herself some ownership over the material she created.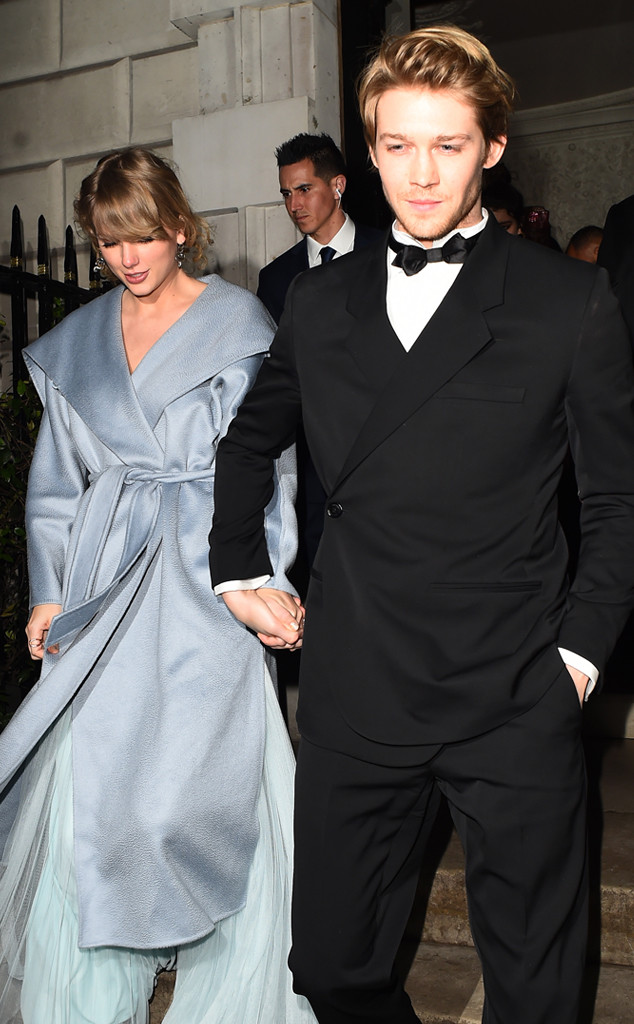 Splash News
Over these last five years, Taylor's much-documented love life has also gone through some changes. Shortly after releasing 1989, in March of 2015, she began dating DJ and producer Calvin Harris, staying with him until June of the following year and even helping to co-write (under the now-legendary pseudonym Nils Sjöberg) one of his biggest hits, "This Is What You Came For." After a brief dalliance with actor Tom Hiddleston–never forget those Fourth of July 2016 photos!–she began dating actor Joe Alwyn in September of that year, a relationship she's been in ever since. While much of Reputation and Lover was written about him, she's made the concerted effort to maintain ownership of the relationship, keeping public appearances and comments at an all-time minimum. 
And, in another sign of the maturity that's occurred since 1989, she and Katy found a way to put their long-standing feud behind them, coming together for a public embrace in the "You Need to Calm Down" music video earlier this year.
This period of growth has also been a been a period of great success for Taylor. Aside from the record made with Reputation, the release of Lover saw her make more history when all 18 tracks entered the Billboard Hot 100, something that had never been done before. And back when 1989 took home Album of the Year at the Grammys in 2016, she became the first woman and only fifth act to win that coveted award twice. All told, in these last five years, she's been the recipient of seven American Music Awards (with five nominations at this year's ceremony just announced), 11 Billboard Music Awards, three Grammys, eight MTV Video Music Awards and six People's Choice Awards, with four nominations pending at this year's ceremony, held on Sunday, Nov. 10 only on E! TIME Magazine included her among the "Silence Breakers" named Person of the Year in 2017 and placed her on their list of the 100 most influential people in the world for 2019. And this past July, Forbes named her the highest-paid celebrity in the world, reclaiming the title after previously receiving it in 2016.
It's been a wild ride these past five years. We can't wait to see what's next.