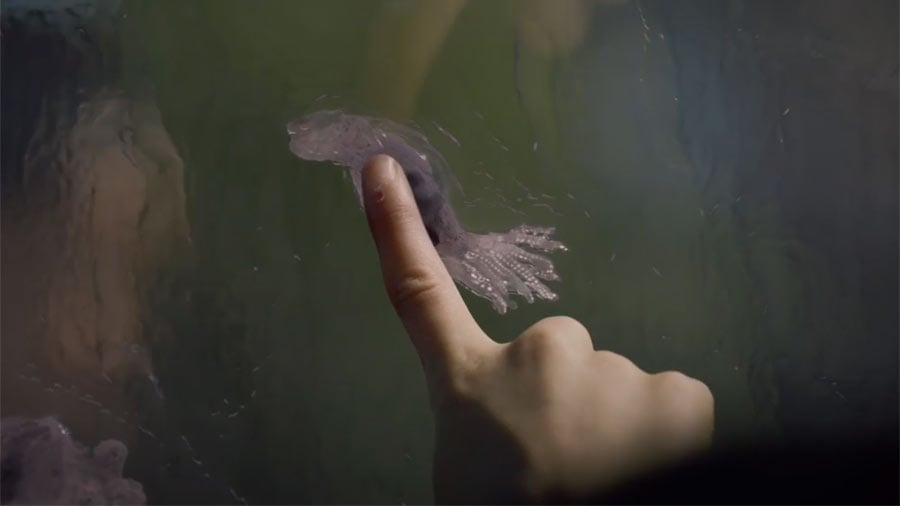 HBO's Watchmen television series has a plot that seems fairly straightforward: law enforcement and masked vigilantes are fighting against a white supremacist group called the Seventh Cavalry. But there's a brief scene in the premiere in which sea creatures inexplicably fall from the sky that clues us into the fact that there are some other, crazier things happening. When Angela (Regina King) and Topher (Dylan Schombing) are driving home from school, sirens go off, and she stops the car so they can be splattered with small, gooey squid for about 10 seconds. She then calmly scrapes them off her windshield, and they resume driving.
Wait, what?
Truth be told, we don't know much about the squid thing yet. In the graphic novel upon which the show is based, Adrian Veidt wants to unite the world against a common enemy, so he plots to make everyone think the world is being attacked by a giant alien squid. In the comics, he successfully carries off the giant alien squid attack. The film version actually begins after the Comedian discovers what Veidt is up to and Veidt kills him before the squid attack can take place.
Veidt later achieves his desired effect of world peace by detonating nuclear reactors and framing Doctor Manhattan as the culprit. Because the world's peace is so fragile, the Watchmen agree to stay quiet about what Veidt did — all except for Rorschach, who must be killed before he spills the beans. However, his journal is sent to a right-wing newspaper and is eventually published; it is this journal that leads to the formation of the Seventh Cavalry. Most people don't regard Rorschach as a credible source, but the white supremacist extremists take his word as canon.
What does all this have to do with the squid rain? One theory that characters on the show have is that the squid attacks are a government conspiracy. When Looking Glass (Tim Blake Nelson) interrogates the suspected member of the Seventh Cavalry in the premiere episode, he asks him, "Do you believe that transdimensional attacks are hoaxes staged by the US government?"
Maybe the government stages this squid rain to keep its citizens thinking they are in constant threat of alien invasion and need to be protected? Or perhaps Veidt's giant alien squid is still out there and is causing the rain, or it is an after-effect of the attack. We don't really know yet. All we do know is that the show really seems to be setting up a showdown between Veidt and Doctor Manhattan.