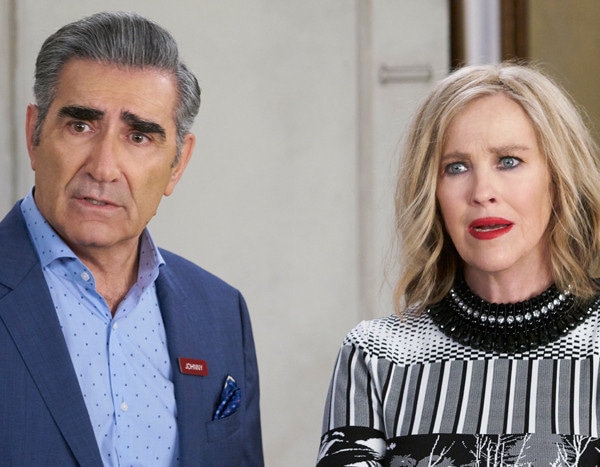 Schitt's Creek, the best TV show everyone is finally watching, is coming to life and we're here to tell you how you can visit the beloved fictional city.
To celebrate the final season of the Emmy-nominated comedy, Pop is launching "Visit Schitt's Creek" pop-up locations in Los Angeles and New York City. The immersive experience will have a variety of the show's sets recreated for fans to explore, from Moira Rose's wig wall to Café Tropical and the Rosebud Motel. Black and white attire and wigs are optional for your visit.
The pop-up launches in Los Angeles first on Friday, Nov. 22 and lasts until Sunday, Nov. 24 at Goya Studios. Hours are from 12-8 p.m. on Friday and Saturday and 10 a.m. until 6 p.m. on Sunday. Schitt's Creek travels to New York City on Friday, Dec. 13 and sticks around until Sunday, Dec. 15 at The Gallery at Metropolitan Pavilion. Times in New York are the same, 12-8 p.m. on Friday and Saturday, 10 a.m. to 6 p.m. on Sunday.
See a layout of the event space above.
And for good measure, peep a promo for the pop-up below.
"We are constantly asked by fans if Schitt's Creek is a real place they can visit, and it is beyond exciting to finally be able to say 'Yes!'" Brad Schwartz, president of Pop TV, said in a statement. "It is the perfect way to kick off our final season and say one big final thank you to the best fans in the world that have made all this possible."
Schitt's Creek will begin its sixth and final season on Tuesday, Jan. 7, 2020 at 9 p.m. on Pop TV.
Created by and starring Eugene and Daniel Levy, the comedy series follows a formerly wealthy family who lost everything and is forced to relocate to a small town. Catherine O'Hara, Annie Murphy, Chris Elliott, Emily Hampshire, Jennifer Robertson, Noah Reid, Dustin Milligan, Sarah Levy and Karen Robinson also star. The series was nominated for Outstanding Comedy Series at the 2019 Emmys. Eugene Levy, O'Hara and the show's costuming department were also nominated for Emmys.