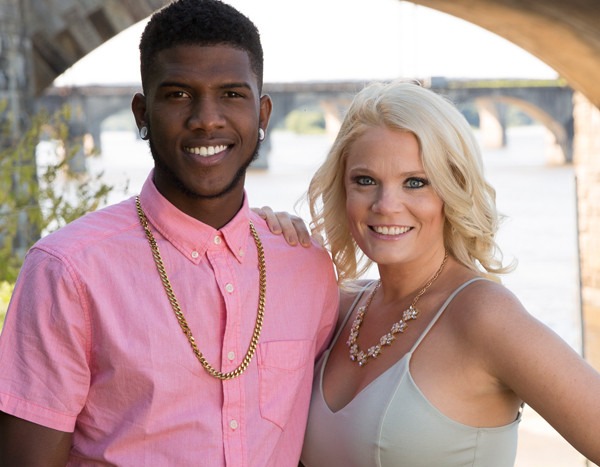 Looks like third time's (not) a charm. 
90 Day Fiancé alums Ashley Martson and Jay Smith have called it quits once more. 
Could this time be for good? 
Martson took to Instagram to announce the split. In her post, accompanied by a series of photos from their wedding, she writes, "#LinkInBio … I am frustrated and disappointed to reveal we got back together recently. And we have now split again and the reason is truly shocking and shows repetitive behavior. The #LinkInBio has the entire story and my full statement." 
The 90 Day Fiancé star also took to her Instagram Stories to announce her separation from Smith. 
"Saddened to reveal we got back together AGAIN and now have split AGAIN… Swipe up for my statement/exclusive interview," Martson wrote in one slide. 
In another, Martson shares that "after officially getting back together again, I hear Jay got ANOTHER girl PREGNANT." 
But now, it's the final straw for Martson as she shared with In Touch Weekly the exclusive details behind her split. 
"I am distraught yet again and am picking up the pieces and doing my best to move on," she told the publication. "I know that I only have myself to blame for the situation I'm in again. It's no one's fault but my own. I can safely say I am, once and for all, done with Jay." 
To recap: this isn't the first time the couple has made headlines in regards to their relationship. 
In January, E! News learned that the 32-year-old filed papers to end her and her 20-year-old husband's eight-month-long marriage. This was on January 11 of this year. Then about two weeks later, Smith had withdrawn her paperwork, according to a Pennsylvania court. 
Later in April, Martson was ready to call it quits for the second this year. E! News confirmed that Martson had filed for divorce once more from Smith. 
At the time, she also shared a cryptic social media post that alluded to the status of her relationship. 
"Behind every strong woman lies a broken little girl who had to learn to get back up, fix the broken pieces, and never depend on anyone," Ashley wrote on Instagram at the time. "#bossbabe #fixyourcrownqueen #womansupportingwomen."
Martson shared with In Touch Weekly that she confirmed with Smith that he got another woman pregnant. 
"He said he doesn't believe her but they are going to get a test done and regardless it's clear he cheated on me," Martson said. 
Don't miss E! News every weeknight at 7, only on E!