When you hear the word 'ruffles', you likely think of semi-sheer pieces in fair hues – perhaps pastel pinks and blues – that wouldn't look out of place in a super romantic summer-set '50s novel.
You might even think of that time The Stepford Wives turned their local supermarket aisles into what we can only describe as a catwalk of frothy, frilly dresses.
Either way, you likely don't hear the word and immediately think of autumn. Even less so, winter.
But, as we predicted back in February (#humblebrag) having spotted them adorning the AW19 runways at Molly Goddard, Erdem and Roksanda, this season is all about the flounce.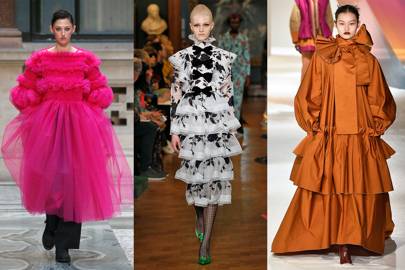 So we're here to suggest you forget everything you've ever associated with 'ruffles', and rethink the concept as the secret weapon in every cool-weather wardrobe. After all, it's layers-upon-layers of fabric… who doesn't want that in winter?
Here are all the major ruffles that we've got our eye on this autumn in preparation for the trend's resurgence…